Your support is needed and is appreciated as Amigaworld.net is primarily dependent upon the support of its users.




Topic
Replies
When You Are Happy - My New Video with Amigas inside :)
8
Amiga30 - Amsterdam - June 27, 2015 (1, 2, 3, ... , 9)
160
Installation of Radeon HD Southern Islands and 3D VisionTek HD 7... (1, 2, 3)
54
A1-X1000: Linux Kernel 4.1 (1, 2, 3)
59
AmigaOne 500 Ethernet/USB problem
13
AmiCloud - a dropbox alternative with a twist (1, 2, 3, 4)
65
How to reset everything on AmigaOne XE/G4 board
7
Mono for AmigaOS (1, 2)
21
AMINUX can be downloaded directly
1
get my amiga a1200 on line
14
»» Recent Topics »» Visit Forums



PDF Fanzine that review / compare games on vintage computers

SendSpace: https://www.sendspace.com/file/hn8o33
Mega: https://mega.co.nz/#!2gMUgSZZ!2zRQGEt9mFUYyMFGuwV2AC813T4fGYGGFP3tDaggdi8
Post comment
Commodore Free issue 88 released (fwd)
News posted by RobertB on 23-Jun-2015 8:36:48 (264 reads)
---------------------------- Original Message ----------------------------
Subject: Commodore Free issue 88 release
From: "Nigel Parker"
--------------------------------------------------------------------------



Issue 88 of commodore Free has been released
http://www.commodorefree.com/

Read more
Amiga Future 115 preview and excerpts are now available online
Announcement posted by AndreasM on 22-Jun-2015 14:38:34 (446 reads)
The full colour preview and excerpts of the Amiga Future issue 115 (July/August 2015) are now available online.

Some of the interesting articles in this issue are:

Interview Paul Gardner-Stephen (Mega65)
Review Star Trek Voyager: Elite Force
Review WHDLoad

Of course there's so MUCH more actually in the magazine.

Needless to say you'll find some FULL versions of software, often what was commercially available, as well as some of the latest try-outs or freely released software applications and games for, hopefully, all of the Amiga type Operating systems, so that's Amiga 'Classic', OS4, MorphOS, and AROS, including some PD software for these systems, all on the cover CD.

A detailed description of content and excerpts can be found at: http://www.amigafuture.de/kb.php?mode=cat&cat=13

The Amiga Future magazine is available as an English and German printed magazine - every issue is available in FULL COLOUR - directly available from the magazine editorial office and also from various other Amiga dealers.
1 comment | Read more
New version of V.A.M.P. player the multi format player makes with Hollywood using the Hollywood plugins to play video, song, sound, animation files besides show pictures.
This new realese was compiled with the last Hollywood version and fixed and add new improvements available for MorphOS, AmigaOS4.x, AmigaOS3.x, WarpOS and Windows.
You can find the last version and updates here.
www.morguesoft.eu
1 comment
AMIStore: Workbench CANDI updated with new Summer theme
software OS4 posted by amigakit on 20-Jun-2015 12:51:39 (1089 reads)
Workbench CANDI updated with new Summer theme
Animated Workbench Backdrops
A-EON Technology Ltd is pleased to announce that Workbench CANDI has now been updated and is available to download from AMIStore App Store. This update is free of charge to all customers that have bought CANDI from AMIStore. Any new customers who want to purchase CANDI can now do so from AMIStore.

A new Summer beach theme has been created and added to the many other CANDI themes in the collection. The new theme features random events such as seagulls flying past, yachts slowly creeping across the seascape and crabs wondering about on the beach whilst the shoreline is lapped by the waves.

There are some more rare bonus features to look out for. What perfect way to get extend summer to your Amiga's Workbench screen!

The lite version of CANDI is once again available by a tooltype which can be used to select LOWCPU option for less capable hardware.



Once again, our special thanks go to Entwickler-X who have once again done some wonderful work in realising this update for A-EON.




13 comments | Read more
Public Release of MorphOS 3.9 & MorphOS SDK 3.9
software MorphOS posted by ASiegel on 19-Jun-2015 13:48:18 (1303 reads)
The MorphOS development team is proud to announce the immediate availability of MorphOS 3.9, which is primarily a stability and security update, and MorphOS SDK 3.9, which features updated system includes, OpenSSL, ixemul (50.10) and an integrated Scintilla documentation file. For a more extensive overview of the changes included in MorphOS 3.9, please read our release notes.

We strongly urge new users to carefully read our installation and troubleshooting guides before they attempt to install MorphOS for the first time. Existing users can upgrade via the familiar procedure but are encouraged to read the guides as well. MorphOS 3.9 is available for download in our files section.

Source: morphos-team.net
13 comments
Announcing presentation by Ron Nicholson and Joe Decuir at the Amiga 30th US
Amigaworld.net News posted by tekmage on 15-Jun-2015 23:25:08 (544 reads)
Hello Friends,

The organizing team of the US Amiga 30th anniversary is extremely pleased to announce that Ron and Joe will be presenting for the first time their work on the Amiga Lorraine chip set.

When Jay Miner started to dream about building a revolutionary new system that could be the ultimate game system and a new class of personal computer her started to assemble a team of top talent. Some of the first people Jay reached out to were Ron Nicholson and Joe Decuir. Together they crafted what would become the first Amiga custom chip-set and raise the bar for the personal computer.


3 comments | Read more
Dir Me Up 2.50 released for AmigaOS 4.1
software OS4 posted by Glames on 14-Jun-2015 19:13:09 (669 reads)
Dir Me Up 2.50, the modern Amiga explorer, has been released for AmigaOS 4.1 computers.

Dir Me Up, a software to explore and manipulate files, links and drawers of your Amiga.
4 comments | Read more
A-EON Technology acquires DvPlayer
The premier multimedia player for AmigaOS 4
Cardiff 14th June 2015

A-EON Technology are pleased to announce that, a year after becoming the sole distributor of DvPlayer, we have now secured the exclusive rights from its developer Stephen Fellner.



As part of the agreement A-EON Technology has acquired a world-wide, exclusive, perpetual and irrevocable license to develop, publish and distribute the full Dvplayer source code, binaries and plugins. A-EON has also acquired the DvPlayer web content and exclusive rights to all trade names for product marketing, promotion and branding for the AmigaOS and Amiga-related operating systems including emulat-ion. Meanwhile Stephen Fellner will retain non-exclusive rights to elem-ents of his original source code for potential future projects. The current version of DvPlayer runs under AmigaOS 4.1 and supports the following video formats:-




MPEG-1/2 video streams
MPEG-1/2 system streams
MPEG audio files
VideoCD and SVCD
DVD Video
AVI files (inc.OpenDML extens.)
ASF/WMV files
AIFF audio files

DvPlayer also supports many audio and video codecs via avcodec.library, including MPEG Video 1/2, DiVX, XVID, MJPG, Cinepak, Indeo Video, PCM, MPEG Audio (Layer1-3) and more. It uses fast direct-rendering algorithms for every possible HiColor and TrueColor display mode and separate rendering routines for half scale and 16:9 movies so that they are correctly displayed at the correct aspect ratio. DvPlayer uses a new triple buffering technique which is only available in OS4.0+. There are numerous other features including:- keyboards shortcuts, a skinnable GUI, full screen and windowed displays, Amidock support, DVD and VideoCD playback, subtitle support, support for external plugins, a visual audio scope and many, many more.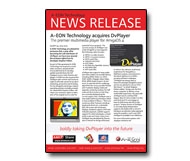 DvPlayer was developed by Steven, who is himself an Amiga enthusiast, to deliver the ultimate multimedia experience for AmigaOS 4.1. Matthew Leaman, commented on the latest addition to A-EON's growing software catalogue, "DvPlayer has always been a favourite amongst AmigaOS 4 users and we are pleased to secure it for the future". To which Stephen Fellner added, "Amiga was the first home computer to deliver a true multimedia experience. My goal with DvPlayer was to continue that legacy. Now it's time to take it to the next level and I'm very happy to have A-EON bring new life to this project." A beta version of DvPlayer is currently being tested which supports the RadeonHD v2 driver's hardware accelerated video playback using the graphics card's own GPU. DvPlayer is available from AMIStore.

For more information please visit:- dvplayer.amistore.net

boldly taking DvPlayer into the future

28 comments (1 , 2)
Version QUAKE II version spéciale "Improved rendering HD" AmigaOS4 by HunoPPC
software OS4 posted by HunoPPC on 14-Jun-2015 12:28:16 (1285 reads)
Version QUAKE II version spéciale "Improved rendering HD" AmigaOS4 by HunoPPC


Amiga French Team 2015
3.22 Release 1
Requirement: 3D Card with Warp3D support (NO Wazp3D in this release) and high machine with a RadeonHD



17 comments | Read more
[ home ][ about us ] [ forums ][ classifieds ] [ links ][ news archive ] [ link to us ][ user account ]
Polls (Login to view/vote)