Your support is needed and is appreciated as Amigaworld.net is primarily dependent upon the support of its users.




Topic
Replies
few questions about Enhancer CD
4
Picasso96 sold to Hyperion & Individual Computers (1, 2, 3, ... , 6)
113
Access to SFS volume is suddenly locking up programs
14
Amiga Inc. Loses U.S. Trademarks (1, 2, 3, 4)
60
PPC 5020, 5040... OS4.1, 4.2 ... and after? (1, 2, 3, 4)
73
Advice needed on Amiga 1200 scart 23pin to 4 BNC RGB cable
3
A week in AROS... (1, 2, 3, ... , 16)
306
The AMIGA Trademark
14
ps type AEon keyboard to usb
10
Hexaco (colour code tool) (1, 2)
32
»» Recent Topics »» Visit Forums



RNOAnim is a compact animation player that also has some conversion and editing functions.
- MUI GUI (MUI Royale)
- Internal loaders: IFF, GIF, AVI (uncompressed/MJPEG)
- Included plugins: APNG, FLI/FLC, YAFA
- Can save (convert) to: GIF, APNG, and AVI (MJPEG)
- Can export frames to PNG images
- Animations can be resized freely by resizing the window
- Several options to alter the playback speed
- Animation frames can be added, inserted, or removed
- All changes (size, speed, frames) will be saved when saving a new animation
- Drag & drop loading
- Extensive ARexx support
- Keyboard and mouse controls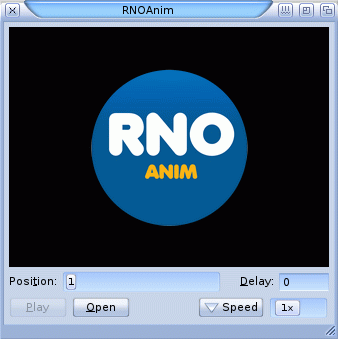 (GIF anim created with RNOAnim!)

Available for MorphOS and OS4 from Aminet now. Also if you install it with Grunch on MorphOS, you'll get Ambient mimetypes configured automatically for different animation formats.
13 comments
Dear all!

I am happy to release a new version v0.997 of AmiModRadio after these long months of silence! :)

You can take it from here, here, or here.

This version arrives after some software, hardware, and wetware problems... Most of these problems are being managed now so development should resume and release should happen more regularly ;) This new release mostly includes bug fixes (#60, #61, #64, #67, #68, #69, #70. #73, #74, #75, and #76), stay tune for new features! Also, I want AmiModRadio to work on Honx's config... as well as on my A4000/30...

As usual, bug reports are always welcome here!

Cheers!
3 comments
We have updated AmiCloud and the indieGO! Appstore for all systems.

Changelog for AmiCloud 1.2 (build 0313):
- Fixed voucher code support
- Fixed registration process

Grab it from www.amicloud.de


3 comments | Read more
Next FCUG meeting - Sunday, April 9
News posted by RobertB on 3-Apr-2017 9:47:28 (281 reads)
Happy almost Easter, C= and Ami aficionados!

The Fresno Commodore User Group has its next meeting from 11 a.m. to 2+ p.m., Sunday, April 9 at --

Bobby Salazar's Mexican Restaurant
2839 North Blackstone Ave. (corner of Blackstone and Michigan)
Fresno, California
(559) 227-1686

For discussion, we'll talk about the May 19-21 Maker Faire in San Mateo, the preparations for the June 10-11 Pacific Commodore Expo NW, and the latest on the July 29-30 Commodore Vegas Expo. Again, we'll look at the film, "Viva Amiga: The Story of a Beautiful Machine," this time part 4.

In hardware we'll examine the Tramiel/Peddle-autographed C64 which will appear at PaCommEx and at CommVEx; and the Ray Carlsen-refurbished Plus/4, which is set to be modded at CommVEx. Also, we'll have a more detailed look at the Final Expansion 3, Rev. 11, cartridge for the VIC-20. The AmigaOne G4 returns with more installed software.

In software, we'll try out the "CGA emulator" for the VIC-20, Bruce Lee II for the C64, and if we have time, we'll decide on which C64 software package attendees will play in the CommVEx game competition -- Karate Champ or Way of the Exploding Fist or World Karate Championship.

Artfully martial,
Robert Bernardo
Fresno Commodore User Group
http://www.dickestel.com/fcug.htm
1 comment
Airsoft Softwair is proud to announce the immediate availability of many plugins for the x86_64 architecture. Since Hollywood 7.0: Eternity now has support for 64-bit CPUs the plugins also had to be updated for the new architecture. The following plugins have now been updated with 64-bit versions for x86_64 CPUs on Windows, Mac OS, and Linux:

- ahx.hwp
- aiff.hwp
- apng.hwp
- avcodec.hwp
- digibooster.hwp
- flic.anim
- httpstreamer.hwp
- jpeg2000.hwp
- moviesetter.hwp
- oggtheora.hwp
- oggvorbis.hwp
- pcx.hwp
- sqlite3.hwp
- svgimage.hwp
- tiff.hwp
- vectorgraphics.hwp
- xmlparser.hwp
- yafa.hwp

Furthermore, the following plugins are available in new versions for all platforms:

- ahx.hwp 1.2
- avcodec.hwp 1.4
- httpstreamer.hwp 1.1
- sqlite3.hwp 1.2

Finally, the Android binaries of all plugins have been updated. They now no longer have text relocations which makes their binaries smaller and also avoids a warning to the debug port on Android devices.

You can download the plugins from the official Hollywood portal at http://www.hollywood-mal.com/ Thanks to Hollywood's cross-platform plugin system versions for AmigaOS3 (Classic), AmigaOS3 (FPU), AmigaOS4, MorphOS, WarpOS, AROS (x86), Linux (PowerPC), Linux (x86), Linux (x64), Linux (arm), Mac OS (PowerPC), Mac OS (x86), Mac OS (x64), Windows (x86), Windows (x64) and Google's Android platform (arm) are provided.

This release was brought to you by Airsoft Softwair - the hardest working men in code business.
4 comments
Dir Me Up 3.10 released for AmigaOS 4.1
software OS4 posted by Glames on 31-Mar-2017 9:58:02 (411 reads)
Dir Me Up 3.10, the modern Amiga explorer, has been released for AmigaOS 4.1 computers!

Dir Me Up, a software to explore and manipulate files, links and drawers of your Amiga.

What's new
- "Select All" button added to select all items in the list.
- When an action is performed on an item, the list is updated without going back to the top.
- Simple Renaming / A file can now be updated by just changing its case.
- If the application wasn't iconified at startup, the first history button was no longer displayed: fixed.
- When moving files and drawers on the same volume simultaneously, a problem could occur: fixed.
- Script / If you modify the image of a customizable button, the selected image automatically uses the same name, followed by "_s".
- Script / If you modified the image of a button, the update of the buttons was not carried out: fixed.
- Youtube / Video about the 3.02 new features added.
- Website / Links to Epsilon's review and Hostcove's video added.
- ...


4 comments | Read more
Amiga Future monthly News March 2017
News posted by AndreasM on 29-Mar-2017 17:34:23 (259 reads)
2.3.2017
********
Amiga Future issue 125 released

The English and German issue 125 (March/April 2017) of the print magazine Amiga Future has been distributed today, and can also be ordered directly from the editorial office of Amiga Future, and the other Amiga dealers that stock the magazine.

Mag Content:

Interview ignition
Blitz Basic Workshop Part 4
Demoscene

and so much more ... if you haven't already, get your collectable copy ordered today

A more detailed description of the contents and previews of this issue can be found at the Amiga Future magazine hompepage.

Information: http://www.amigafuture.de/kb.php?mode=cat&cat=13
Orders: http://www.amigashop.org

http://www.amigafuture.de
http://www.apc-tcp.de



Read more
AnimWebConverter is a program creates with Hollywood™ 7.0 for MorphOS™, AmigaOS™ 4.x, AmigaOS3.x™,  Windows™ and MacOS 10.4.2™ PPC.
    A little  and easy  web tool to convert your old  Amiga™ animations  with the  anim and yafa formats  to web anim formats gif and apng,  other feature to change the size  of the animations to more  biggest or littest,  also you can to between  web formats,  gif and apng, the tool not convert to Amiga™  formats.  Also you  can change the animation speed fast or slow.
 This program also is a little animation player with extra options.

  Features:
1. Resize the animation by percentage or by pixels width and height.
2. Converting an animation gif or apng between these formats.
3. Change the animation speed,  it works with hundredths seconds,  the delay time between  frame set of 0.01 to 0.99 seconds.
4. Converting an Amiga anim or yafa formats to web animation gif or apng format.
5. Extract one frame from the animation and save it to: gif, jpg, lbm, png, bmp, jpeg2000, tiff.
5. Save the animation to video mpeg I.
  
New features v2.70 (22 March 2017):
1. Compiled with the last Hollywood version 7.0.
2. Bugs fixed.

  Available in the next languages:
    1. Spanish.   2. English.   3. Italiano.   4. French.

Home: MorgueSoft
11 comments
APC&TCP: Revised online shop
News posted by AndreasM on 22-Mar-2017 17:58:44 (136 reads)
The onlineshop of APC&TCP was completely revised the last days.

From now on there is an own Amiga Future subscription category.
This makes it much clearer and easier to order an Amiga Future subscription.

In addition, the different fonts and font sizes have been adapted in order to unify the appearance.

On browsers who know CSS, the links are no longer underlined, which increases the readability of the fonts.

And last but not least the shop was converted to SSL.

http://www.amigashop.org
http://www.apc-tcp.de

Post comment
[ home ][ about us ] [ forums ][ classifieds ] [ links ][ news archive ] [ link to us ][ user account ]
Polls (Login to view/vote)