Your support is needed and is appreciated as Amigaworld.net is primarily dependent upon the support of its users.




Topic
Replies
Packed Versus Planar: FIGHT (1, 2, 3, ... , 7)
131
Which CPU?
19
Updater tool: latest releases and updates (1, 2, 3, ... , 8)
140
browsing the modern web on historical browsers
11
AmiWest 2022: October 20 - October 24, 2022 (1, 2)
24
To be this good will take SEGA ages!
7
RadeonHD V5
6
Patches for A600
0
Texas Amiga Users
4
AmigaOS 4.1 FE Classic Voodoo card do not work after UP1 and UP2
6
»» Recent Topics »» Visit Forums



REV'n'GE! is a fanzine that review old games on vintage platforms.
The two games that i choose to put in the cover are Advance Destroy Simulator for Amiga and Nautilus per Atari ST.
Old hardware review is about Colorburst graphic board and a simple page if fpu in videogames it is true or a legend.

Good Reading

source:
https://sites.google.com/view/revenge-fanzine/home-page


1 comment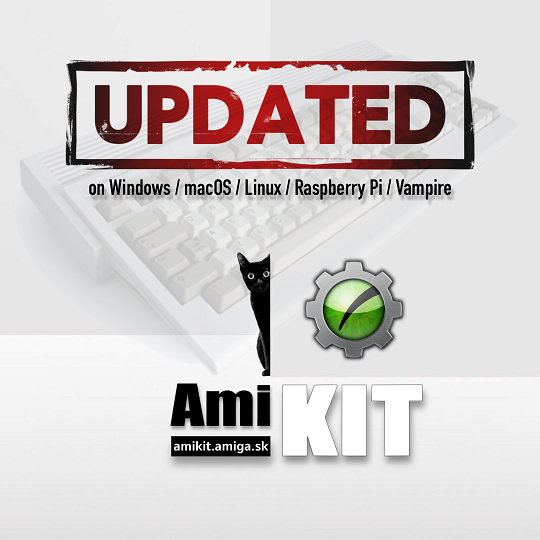 AmiKit, the high-end Amiga experience package, has been updated on all platforms.
I hope you enjoy it as much as I enjoyed creating it. --Ján

WEBSITE: www.amikit.amiga.sk
CHANGELOG: bit.ly/amikitx-changelog


WHAT IS AMIKIT?

- AmiKit turns your computer into a powerful Amiga desktop. It includes 400+ apps and retro games.
- We've done all the hard work for you. Everything is pre-instaled and pre-configured & ready to use out of the box
- AmiKit runs super fast on your Windows, Mac, Linux or Raspberry Pi thanks to WinUAE/Amiberry emulator
- Enjoy your beloved Amiga computer in a modern retro power suit!

NOTE: For AmiKit to work you do need original Amiga Operating System files (Amiga Forever is recommended​).
4 comments
Fifteen years of Sam440ep
hardware OS4 posted by elwood on 21-May-2022 19:11:53 (1032 reads)
Dear customers,

It was the year 2007 when we introduced our first "baby", the Sam440ep. Fifteen years ago. We designed and produced the Sam440ep, a lovely mini-itx motherboard that many enjoyed running AmigaOS 4, AROS and Linux.

At that time we, a bunch of mad amigans, resolved to do our best to bring this hardware to life for all the Amiga Community because it was in dire need of a new computer platform to run AmigaOS.

Without the Sam440ep, the future of AmigaOS would have been very difficult.

After all these years, just as the latest batch of Sam460LE is being produced, we choose to release the electrical schematics of the Sam440ep to the community.

We hope many of you will be happy to see one of the first image of our first project.

The ACube Systems team

Sam440ep schematics
8 comments
To celebrate Hollywood's 20th anniversary this year, Airsoft Softwair, the hardest working men in code business, are back on your screen with another massive release: This time we are proud to present the brand-new version 6.0 of our famous Hollywood Designer. Hollywood Designer 6.0 is a full-blown multimedia authoring system that runs on top of Hollywood and can be used to create all sorts of multimedia-based applications, for example presentations, slide shows, games, and applications. Thanks to Hollywood, all multimedia applications created using Hollywood Designer can be exported as stand-alone executables for the following systems: AmigaOS3, AmigaOS4, WarpOS, MorphOS, AROS, Windows, macOS, Linux, Android, and iOS. This is a feature that is totally unique in the Amiga world!
2 comments | Read more
Airsoft Softwair, the hardest working men in code business, are proud to announce the immediate availability of a number of add-ons for Hollywood 9.1. The following add-ons are now available for download from the official Hollywood portal:

- Hollywood Player 9.1 for all supported platforms (also available for your smartphone/tablet on Google Play)
- Hollywood SDK 9.1 for developing your own plugins (includes examples and over 400 pages of documentation in various formats)
- Hollywood 9.1 add-on for Cubic IDE (kindly provided by Michael Jurisch)
- Hollywood 9.1 wordfile for UltraEdit
- Hollywood 9.1 online reference manual (over 1100 PDF pages, alternatively available as HTML, CHM, and AmigaGuide)
- Hollywood SDK 9.1 online reference manual (over 400 PDF pages, alternatively available as HTML, CHM, and AmigaGuide)

The release of these add-ons completes the Hollywood 9.1 release. Please visit the official Hollywood portal at http://www.hollywood-mal.com/ for download and more information.

Brought to you by Airsoft Softwair - the hardest working men in code business.
1 comment
On 15th and 16th October 2022, Amiga37 Germany will take place at the "Kunstwerk" in Mönchengladbach!

The world's largest Amiga-only event will take place for the fourth time and around 40 exhibitors, numerous guests of honour and visitors from all over the world are expected!

As in previous years, there will again be a varied programme with interviews, talks, product demonstrations, exhibitions, a raffle and the presentation of the Amiga37 Community Award!

In the evening there will be an aftershow party as well as the Setpatch 2022 Music Party, where Chris Hülsbeck and the band "The Fastloaders" will perform, among others.

Further information can be found on the website www.amigaevent.de; tickets are available at www.amigaevent.de/ticket.

Please note that all tickets are only available in limited quantities!
2 comments
Amiga Future issue 156 released
News posted by AndreasM on 4-May-2022 11:45:18 (403 reads)
The English and German issue 156 (May/June 2022) of the print magazine Amiga Future has been distributed today, and can also be ordered directly from the editorial office of Amiga Future, and the other Amiga dealers that stock the magazine.

Mag Content:

Review RGBtoHDMI CDTV
Review Knightmare
Review ClockSignal

and so much more ... if you haven't already, get your collectable copy ordered today

A more detailed description of the contents and previews of this issue can be found at the Amiga Future magazine hompepage.

Information: https://www.amigafuture.de/app.php/kb/index?c=13
Orders: https://www.amigashop.org


Post comment
Real Amiga SWOS Total Pack ver. 1.1. Update [MorphOS.Released]
software MorphOS posted by Cool_amigaN on 3-May-2022 21:25:49 (467 reads)


After almost a year of its original release, the first major update has been finally released!

Though most aspects have been further improved, we took extra care on the "Data Disks" section and now, for the first time in the Amiga scene ever, we are offering the complete experience for all World and Euro cups: select your Team directly from the application's menu and relive or rewrite golden moments of football history with historical accurate teams, groups and rules, thus bringing RASTP on par with SWOS 2020 DIY DLC on the PC!

The full feature update list is:

- Added 25 different themes & remixed versions
- Added 18 World Tournaments
- Added 11 extra data disks
- Added 7 Bonus Games
- Added 5 Cracktros
- Added 5 Seasons
- All World Tournaments reworked to include default .DIY cups
- All Data Disks reworked based on clean ADFs
- Integrated GUI'ed HEX editor
- Integrated DIY Random Results Generator
- Integrated custom MagicBeacon notifications
- Integrated Blanker auto de-activation
- Added animated intro (cracktro style)
- Added control options
- Added Grunch support
- Added support for Amiga Forever ROM files (rom.key)
- Added Fullscreen help (quit key info)
- Improved update script
- Minor GUI improvements
+ Fixed:
- COPA AFRICA: 2010 now propetly loads
- E-UAE / JIT uaerc for newly added seasons

For more details per item, please consult the "What's New" intro in app or the updated Readme.

If you missed the live release party on twitch stream, see it HERE.

If you haven't downloaded yet, RASTP, you can find HERE or through the newly addition of Grunch.

All users are advised to update through the in app Live Updater or through Grunch.

Stay Sensible!
1 comment
Passione Amiga Day 2022
Events posted by Mod3mski on 3-May-2022 8:36:27 (441 reads)
Passione Amiga day is the meeting day for Amiga users in Italy organized by Passione Amiga, the printed magazine for Amiga enthusiasts and lovers in Italian language with commercial exhibitors, conferences with Italian and international guests and a flea market.

The location, in the historic center of the city of Spoleto, is the ideal place to spend a weekend in contact with history, culture and food and wine; Spoleto has been able to combine modernity with its past that can still be breathed in the streets, squares and which makes it a unique city in the world. Because of its charm, a "Don Matteo" was chosen as the location for the IX and X series of the RAI fiction.

After the success of the first edition, the Passion Amiga day 2022 will take place on September 18, 2022 with free admission.

For more information and to book a stand (exhibitos and private): www.passioneamigaday.it
Post comment
[ home ][ about us ][ privacy ] [ forums ][ classifieds ] [ links ][ news archive ] [ link to us ][ user account ]
Polls (Login to view/vote)