Your support is needed and is appreciated as Amigaworld.net is primarily dependent upon the support of its users.




Topic
Replies
Some Power related news (1, 2, 3, ... , 18)
359
Viva Amiga: the Extended Remix
3
ALS, a new graphics system (1, 2, 3, 4)
61
Graphics card for X1000
19
NEW HARDWAREFOR SALE ONLINE !!
4
Volley for Two - new C128 game!
3
Amiga SIMD unit (1, 2, 3, ... , 6)
100
Blackfang, a work-in-process strategy game
15
windows-xp-source-code-leaked
11
AmiKit X - Upgrade to AmigaOS 3.1.4
4
»» Recent Topics »» Visit Forums



Hello Amigans.
for all of you that have an Amiga 3000.
3dprintserviceshop is busy to make some Amiga 3000 parts.
for now some small parts available online.

Amiga 3000


Post comment
RNOPublisher is an easy-to-use PDF publishing program. It is made with Hollywood and is available for AROS, MorphOS, OS4, OS3 (RTG), and WarpOS (RTG).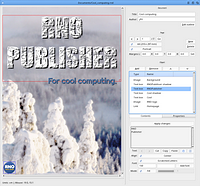 Features:
- Supports the most common page sizes in portrait and landscape modes
- Freely placeable text boxes, images, PDF links, and graphical objects
- PDF links can point to document pages or web links
- Supports base fonts that don't affect the file size
- Custom TTF fonts can be embedded into documents
- PDF outlines (table of contents) support
- User creatable page templates
- PDF exporting supports passwords and compression options
- Constrained mouse movement and resizing using qualifier keys
- Additional document saving and loading in its own format
- Drag & drop loading of documents, pictures, and text files

Please visit its homepage for an example PDF file produced with the program and for download links.
4 comments
Amiga Future monthly News July 2020
News posted by AndreasM on 30-Jul-2020 9:27:59 (1662 reads)
2.7.2020
********
Amiga Future issue 145 released

The English and German issue 145 (July/August 2020) of the print magazine Amiga Future has been distributed today, and can also be ordered directly from the editorial office of Amiga Future, and the other Amiga dealers that stock the magazine.

Mag Content:

Review The Queens Footsteps
Review Distant Suns
Special Action Replay Amiga 500

and so much more ... if you haven't already, get your collectable copy ordered today

Read more...
Read more
New version 1.6 of AmiCygnix available
software OS4 posted by CygnusEd on 28-Jul-2020 20:29:58 (600 reads)
Version 1.6 brings some innovations and updates. Some bugs have been fixed again.
Due to the update to GTK+ 2.24.32, AmiCygnix 1.6 will be a requirement for future software packages.

New in AmiCygnix-Base:

Update to version 2.24.32 of GTK+, the latest version of GTK+ 2. In addition to some new features, the drag 'n drop in GTK+ 2 applications now finally works. The corresponding programs have to be linked again. Programs like Rox-Filer or Gimp benefit greatly from this. Therefore, please pay attention to updates of these programs!
Full support for Unix locale strings. So you can now select the country, the encoding and special variants in addition to the language. You can also select multiple locales.
The size of the windows of the Workbench display driver can now be reduced with a size gadget (except Picasso96pip). The content can then be moved using a scroller.
[li] Support for version 3.16.3 of GnuTLS, the latest version of the SSL/TLS layer. Support for SSL 3.0 and TLS 1.3 is new. The Trusted Certificates included have also been updated. Problems with programs like NetSurf or Claws-Mail should be solved with it. However, the corresponding programs must be relinked.
5 comments | Read more
Hello all Amigans.

After a while of rebuilding the website its back online, its more readable then before.
Also some small new things added. Also added a new option for the A4000 front cover what results in a better print quality and a sturdier print, also print time is faster.

Hope to see you all soon again.

Visit 3dprintserviceshop's webshop
1 comment
Amiga Future search translators
News posted by AndreasM on 27-Jul-2020 11:49:03 (492 reads)
We are looking for assistance for the Amiga Future magazine.

We are looking for translators for the magazine.

German -> English

Read more
APC&TCP is proud to release the new Amiga game Fred's Journey in a physical version for collectors. A digital copy is provided free of charge.

After Trap Runner, Fred's Journey is Retroguru's second Amiga title, which was released on APC&TCP.

The game is available at https://www.amigashop.org

Fred fondly remembers his past journeys on the Commodore 64. Deciding to relive his adventures he heads out again!

Read more...
Read more


A1200 8MB Fast Memory Expansion Revision 1.5

This high quality, low cost memory expansion increases your Commodore-Amiga 1200 computer's memory. Extra memory is essential for many games which require more Fast RAM to work. This expansion is ideal for use with WHDLOAD.

Memory expansion is installed by slotting it into the trapdoor expansion compartment underneath the computer. Revision 1.5 reduces the size of the expansion.

Additionally this expansion more than doubles the speed of your system to 2.91 Million Instructions Per Second (MIPS). Optionally, it will accept up to 40Mhz math coprocessor to be installed for speeding up FPU operations


Features:

* 8MB 32-bit Fast RAM to boost total system memory to 10MB
* Memory auto configures with no drivers required
* Second clockport header to give computer more expandability
* Floating Point Unit socket accepting optional 68882 PLCC FPU up to 40Mhz
* Memory can be configured to 4MB, 5.5MB or 8MB Fast RAM using on-board jumpers.
* PCMCIA compatible in 4MB or 5.5MB mode**
* Header for optional Real Time Clock module: available installed at special price
* New version 1.5 design (July 2020).

We are pleased to bring this high quality product to the community at our low prices.


Product Links:

UK
USA
Europe
Canada
Australia
New Zealand


1 comment
Airsoft Softwair has just released the manual for the brand-new Hollywood Designer 5.0. Hollywood Designer 5.0 is a multimedia authoring system that runs on top of Hollywood and can be used to create all sorts of multimedia-based applications, for example presentations, slide shows, games, and applications. After 8 years of development, version 5.0 was released a few weeks ago.

The full manual of Hollywood Designer 5.0 is now available for everybody to read on the official Hollywood portal in both HTML and PDF versions. Both documents contain lots of screenshots to illustrate the use of Hollywood Designer 5.0 better. It also contains a detailed changelog of what has changed between Designer 4.0 (2012) and Designer 5.0 (2020).

Finally, the full manual of Hollywood Designer 5.0 is also available in German now thanks to the incredible translation efforts by Dominic Widmer and Helmut Haake. Besides HTML and PDF versions there is also a zip archive you can download which contains the manual as an AmigaGuide document that can be used as a drop-in replacement so that Hollywood Designer's live help system is in German too. The German version is available in the German section of the official Hollywood portal.
2 comments
A600 4MB Fast Memory Expansion

This expansion will add 4MB Fast memory to the Commodore Amiga 600 which is useful for WHDLOAD games and other applications.

Features:
* 4MB Fast RAM
* Memory auto configures with no drivers required

We are pleased to bring this high quality product to the community at our low prices.




Product Links:

UK
USA
Europe
Canada
Australia
New Zealand


2 comments
[ home ][ about us ][ privacy ] [ forums ][ classifieds ] [ links ][ news archive ] [ link to us ][ user account ]
Polls (Login to view/vote)