RadeonHD Driver bundled with AmigaOS 4.1 for Sam460ex
Date 23-Dec-2010 23:04:34
Topic: News


Bassano del Grappa, Italy - 23 December, 2010

ACube Systems is very pleased to announce to have reached an agreement with Hans De Ruiter for including a special version of his RadeonHD driver together with the upcoming AmigaOS 4.1 for Sam460ex.

For the first time in Amiga history this driver will allow the use of modern PCI-express graphic cards together with AmigaOS 4.1. The Sam460ex will be the first hardware capable of running AmigaOS to include this feature.

Currently RadeonHD driver supports the following chipsets with full 2D hardware acceleration and DDC:
* R500 (with compositing support) - Radeon X1550, X1650, X1950 and others
* R600 - Radeon HD 2400 - HD 3450 - HD 3650 and others
* R700 - Radeon HD 4350 - HD 4650

Many thanks to Hans for his wonderful job.

We would also like to take the opportunity to extend our best wishes for a Merry Christmas and a Happy New Year to all our customers.

For more info on RadeonHD drivers please visit Hans de Ruiter's home page.Hans de Ruiter's home page.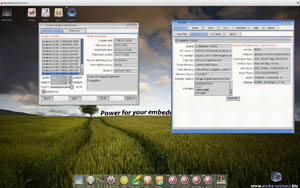 source: http://www.acube-systems.biz/index.php?page=news&id=78