Your support is needed and is appreciated as Amigaworld.net is primarily dependent upon the support of its users.




Topic
Replies
Getting outside programmers interested (1, 2, 3)
45
Blastaway, a new game for AmigaOS 4 (?) (1, 2, 3, 4)
69
Apollo Team commitment to AROS 68k development (1, 2, 3)
49
News about Vampire and Apollo (1, 2, 3, ... , 99)
1974
AmigaOne X1000 stability (1, 2)
35
Amiga 3000 Superkickstart 1.4 Triple boot scripting help
1
Requesting help with ProAction --- text editor gadget
0
Can't change signature on user profile.
1
Can't edit comments in news feeds part of the forum.
1
AmigaOne/Sam hardware documentation
9
»» Recent Topics »» Visit Forums



Airsoft Softwair, the hardest working men in code business, are proud to present the ultimate 100 MB+ Awesome Autumn iOS Plugin Bash 2019! Almost all plugins are now also available in native versions for iOS for use with our Remedios toolkit that allows you to turn your Hollywood scripts into native iOS applications.

The following plugins are now available in native iOS versions: AHX, AIFF, APNG, AVCodec, DigiBooster, FLICAnim, HTTP Streamer, hURL, JPEG2000, Movie Setter, PCX, Polybios, SID, SQLite3, SVG Image, TIFF, Vectorgraphics, XAD, XML Parser, YAFA and ZIP. Each plugin is available in four different flavours: 32-bit ARM, 64-bit ARM and 32-bit x86 and 64-bit x86 for use with Xcode's iOS simulator. That's over 100 megabyte worth of plugin binaries for the ultimate Hollywood experience on iOS!

Read more..
2 comments | Read more
ZitaFTP Server Updated & Introductory Special Ends in 2 Days
Amigaworld.net News posted by Hans on 21-Sep-2019 12:46:13 (224 reads)
Two quick items that need your attention:

ZitaFTP Server Bug-Fix Update

ZitaFTP Server has been updated to version 1.8. This version has multiple bug fixes and workarounds. The most serious issue that's been fixed was a security flaw that could allow users to access files outside of the shared directories (if you know how). Plus, the added workarounds enable ZitaFTP Server to work with a wider variety of FTP clients.

Click here to download the latest ZitaFTP Server.


Introductory Special Discount Ends in 3 Days

Want a discount for ZitaFTP Server? Better act now, because the introductory special ends in 2 days (Monday 23 September, 2019, New Zealand time). After that, the price goes up.

Click here to get the introductory special.
1 comment
Finnish Amiga Users Group's Saku 2019 Event on September 28th
Events posted by jPV on 17-Sep-2019 17:34:43 (224 reads)
Finnish Amiga Users Group holds its 12th Saku event in Oulu, Finland on Saturday, September 28th.

The event will feature many classic Amiga computers from A500 to A4000, FPGA setups like Minimig and Vampire, and next generation systems from MorphOS machines to AmigaOne X5000 with OS4.

There will be a demoshow on a big screen, several game competitions with prizes, and a presentation about the IBrowse 2.5 browser. One lucky visitor will also win a free copy of IBrowse. The latest Amiga Future magazines are available for reading, as well as older magazines from all decades.

Read more...
Read more
GL4ES SDK for AmigaOS4

=== What is GL4ES

GL4ES is an OpenGL 2.1/1.5 to GL ES 2.0/1.1 translation library, with support for Pandora, ODroid, OrangePI, CHIP, Raspberry PI, Android and AmigaOS4.




For AmigaOS4 translation done via ogles2.library (written by Daniel "Daytona" Mubener), and which in turn works on top of warp3dnova.library (written by Hans de Ruiter).






click "read more" for more info
9 comments | Read more
Amiga Future Webpage 20 years relaunch
News posted by AndreasM on 9-Sep-2019 14:02:44 (244 reads)
On 09.09.99 the Amiga Future webpage went online for the first time.
At that time, the webpage barely had content and only a few visitors daily.

Meanwhile, the Amiga Future Webpage has become one of the biggest websites for the Amiga.

In addition to thousands of games and user downloads (including hundreds of commercial titles), the Amiga Future webpage is home to one of the largest cheats collections for the Amiga.

But also several thousand reviews, previews and other articles about the Amiga you can read for free on the Amiga Future webpage.

Many sold-out Amiga Future issues are also available on the webpage for free.

Of course you are always up to date with the news and calender about the Amiga.

The news section is currently being expanded.

We are looking for helpers the news and other areas of the homepage.
If anyone wants to help, please write us.

After 20 years the time has come and we have reworked the complete Amiga Future webpage.

Of course, some mistakes may have crept in. If you discover any, please let us know.

Unfortunately, the passwords of the accounts could not be transferred to the new page by all users.
If you receive an error when logging in, please request a new password from the webpage.

Have fun with the new homepage of the Amiga Future.

https://www.amigafuture.de
http://www.apc-tcp.de
Post comment

Cardiff, 7th September, 2019

AmigaKit Ltd is pleased to confirm that it has concluded an agreement with Andreas Kleinert to acquire the "AK-Datatypes" package.

AK-Datatypes is a collection of graphics datatype software for the Commodore-Amiga computer covering formats such as PNG, GIF, JPEG and TIFF.

Commodore included a narrow scope of image format datatypes within the operating system software as standard. Users demanded greater levels of compatibility with modern image formats and third party developers such as Andreas met that request. He first published the datatype package in 1996 and due to it's popularity it continued to be developed and upgraded for over a decade after release.

Each datatype is supplied with it's own Preferences utility to configure the image rendering settings. They were also supplied with CPU optimised versions from the 68000 through to the 68060.

Amiga Kit is pleased to commit to maintaining and developing software in-house. With this acquisition development of the datatypes will be now continue. It is planned that updated versions will be supplied as a separate software package for a nominal fee and additionally bundled with selected products.

Matthew Leaman, Managing Director of AmigaKit Ltd said: "We are delighted to add AK-Datatypes to our software inventory and invest in continued development of the package. It will benefit and enhance both our present and future software projects that we are working on."

Andreas Kleinert said: "I was very excited when Matthew approached me and described his vision with regards to further support the Amiga platform. The agreement which we concluded makes me confident that he and his team will be able successfully continue from where I had to stop due general lack of time and ability to further commit to the platform on my own."


25 comments (1 , 2)
ZitaFTP Server (Pre-release) is Released and Available
software OS4 posted by Hans on 5-Sep-2019 22:28:03 (474 reads)
Kea Sigma Delta is proud to announce that ZitaFTP Server is finally here!

ZitaFTP Server is a fast and secure file server. Use it to securely transfer files between your machines/devices using the FTP and/or FTPS protocols. It supports multiple simultaneous file transfers (for faster transfers of multiple files).

You can download, try & buy Zita FTP Server for AmigaOS 4.x now.

Click here for more.

NOTE: This is a pre-release, so it still has rough edges and missing features. You'll receive free updates as it's polished up and the features are added.
2 comments
Amiga Future monthly News August 2019
News posted by AndreasM on 2-Sep-2019 15:43:07 (628 reads)
4.8.2019
********
RESHOOT R Mouse pad now available

Übersee, August 4, 2019

The official RESHOOT R mouse pad is now available in the APC&TCP online shop at the URL https://www.amigashop.org

Actually, the mousepad should not be released until the Amiga 34 in Neuss.
But as several users have asked again and again, we have decided to publish the mouse pad already now.

We hope you like the mouse pad.

1 comment | Read more
New articles on Obligement
News posted by Daff on 1-Sep-2019 9:02:41 (423 reads)
The following articles have been added to the website of the french Amiga magazine Obligement (http://obligement.free.fr) during the last two months:

- July/August 2019 news.
- Old articles from Joystick Hedbo 1 to 15 : News: news from Psygnosis for 1989, Review of California Games, Review of Spitting Images, News: Paul Cuisset, the rise of a genius coder, Review of Gone Fish'n, Review of Falcon, News: Infogrames, a big world futur, News: Muriel Tramis parle d'Emmanuelle, etc.
- Olf articles from Amiga Special Environnement : Video environment of the Amiga, 2D software on Amiga, 3D software on Amiga, Audio creation on Amiga, Office on Amiga,
- Interview with Richard Cheek (developer of Sleepwalker).
- Interview with Jamie Woodhouse (developper of Nitro and Qwak).
- Interview with David Broadhurst (developper of Assassin and Bubble Bobble).
- Review of SimCoupé 1.2.
- Review of JetHunt.
- Review of The Master Virus Killer 2.1.
- File: History of data compression in Japan.
- File: The Bitmap Brothers.
- File: MorphOS Directory Assignments.
- File: History of the World Of Commodore show.
- Special quizz about the Access.

Rendez-vous on http://obligement.free.fr for this nice reading.
Feel free to contribute. Please contact David "Daff" Brunet for more info.

1 comment
Kickstarter: 8 bit Symphony Pro - The Double Orchestral CD (8 days left)
Miscellaneous News posted by _Steve_ on 31-Aug-2019 1:05:23 (564 reads)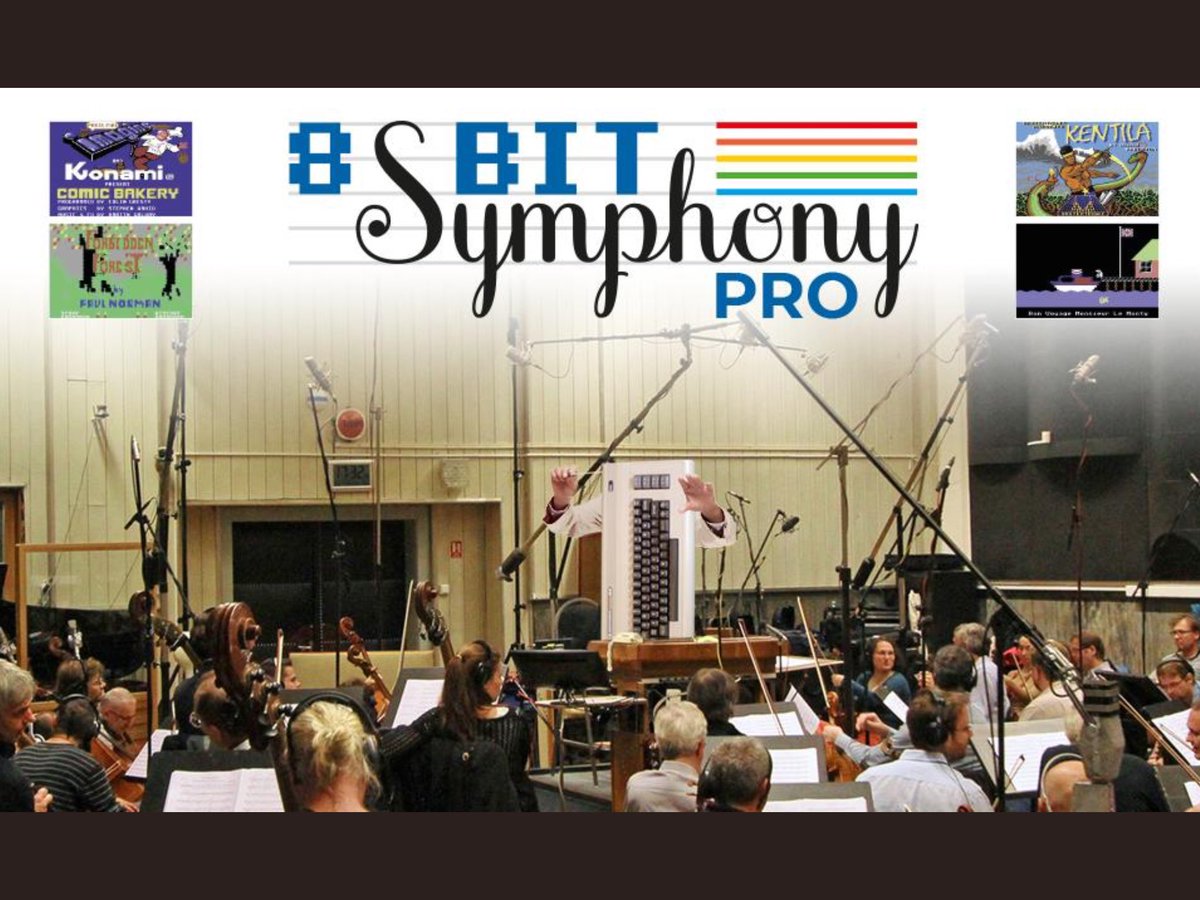 Following on from a very successful concert in Hull back in June, Chris Abbott has launched a kickstarter to have several classic C64 SIDs that were professionally scored for the Hull Concert to be performed and professionally recorded by the Czech Studio Orchestra in Prague.

Many notable C64 musicians works were painstakingly adapted and scored to be played by an 85 piece orchestra including songs by Ben Daglish, Rob Hubbard and Richard Joseph.

Rob Hubbard has been heavily involved in the scoring of the songs along with Robin Tait and Alastair Pickering.

An interview with Rob Hubbard can be seen here: https://www.youtube.com/watch?v=I5l9B0cWwHY&feature=youtu.be

Read more...
2 comments | Read more
[ home ][ about us ][ privacy ] [ forums ][ classifieds ] [ links ][ news archive ] [ link to us ][ user account ]
Polls (Login to view/vote)