Your support is needed and is appreciated as Amigaworld.net is primarily dependent upon the support of its users.




Topic
Replies
Amiga present and future: interview with Trevor Dickinson
2
Unable to post replies to threads
1
Re: Website Bugs (1, 2, 3, ... , 22)
425
AmigaCD64 (1, 2)
39
Recommended DE + Books, Resources for 68k?
0
What's in the way of you writing/porting software? (1, 2, 3, ... , 5)
85
SOLVED ... How do I display a text file using RxMUI?
2
How do I change font for contents of windows in rxMUI
0
Revision Easter Demo Party 2019
0
Is there an Amiga program or games in spanish dialect euskara?
0
»» Recent Topics »» Visit Forums



Less than 2 weeks to the April 27-28 Commodore Los Angeles Super Show!
Events posted by RobertB on 16-Apr-2019 4:29:15 (98 reads)
EDIT:

The server upgrade should be completed

It was quite a task and there are no doubt some problems remaining that I haven't been able to find.

Please report any odd issues. Thanks!

EDIT:

Hi,

As you've no doubt noticed we've had some mysterious outages recently. We apologize for these.

The first time it happened it was obvious the kernel had panicked but no root cause was found. Getting it back up and running was annoying since the software raid needed to be rebuilt (an operation that takes many hours on this particular hardware), after which we then had some problems with a corrupted boot image, it ended up taking quite a few stabs to get it up and running again, not the least because I have a day job and 3 young kids and therefore can't spend every waking hour trying to bring the site back.

Yesterday we then suffered another crash after which the server hosting team ran a hardware test on the server at our request and discovered a broken CPU fan, probably the root-cause of both of these crashes. The CPU fan has now been replaced so we should hopefully be past these issues.

Since I'm writing a news piece anyway I think it's good to point out that there's a plan to upgrade the server to a more recent release of Ubuntu on the 18th of April, the site will be unreachable for some time during that day, probably from early in the morning and until the afternoon. We apologize beforehand for any inconvenience this may cause.

5 comments
The Amiga Future magazine - Issue 138 preview is now available to view online
News posted by AndreasM on 11-Apr-2019 15:31:00 (183 reads)
This is the full colour preview and excerpts of the Amiga Future magazine, issue 138 (May/June 2019) that can now be viewed online on the Amiga Future website.

Attention! From the 6th to the 29th of May we go on vacation.
Within this time no emails can be answered by us.
Of course, orders from our online shop will be processed by us as soon as possible from May 29th.
This also applies to download purchases. We have to work off them by hand.
Please note that if you do any orders the Amiga Future from us.

Some of the interesting articles in this issue are:

Interview Frank Wille
Show Report Amiga Ireland Meetup 2019
ARexx Workshop #1

Of course there's so MUCH more actually in the magazine.

Needless to say you often get other versions of software, often what was commercially available, as well as some of the latest try-outs or freely released software applications and games for, hopefully, all of the Amiga type Operating systems, so that's Amiga 'Classic', OS4, MorphOS, and AROS, including some PD software for these systems, all on the Reader's cover CD.

A detailed description of this issues contents and excerpts can be found at: http://www.amigafuture.de/kb.php?mode=cat&cat=13

The Amiga Future magazine is available as an English and German printed magazine - every issue is available in FULL COLOUR - directly available from the magazine editorial office and also from various other Amiga dealers.

Preview: http://www.amigafuture.de/kb.php?mode=cat&cat=13
Orders: http://www.amigashop.org

http://www.amigafuture.de
http://www.apc-tcp.de


Post comment










Ultimate Creative is back and celebrate it with his new free product MagicUAE.


















Prepare to live an incredible experience by reliving the frenzy of the Amiga on your PC.
​
Read more...

9 comments | Read more
Hello everyone.

3dPrintservice is back again with a new DIY item.


We all know this feeling from playing a nice game and the damned joystick breaks down.

Now you can make your own Competition Pro styled joystick with this base. All that is required then is to buy some arcade buttons, stick and wire it to a DB9 connection, and there you have it a new working joystick.


Easy to replace a button after building it.



4 comments | Read more
RNORadio is a GUI based internet radio player program for MP3 streams, and it's made with Hollywood. The actual streaming and playback is based on the CgmRadio program, but RNORadio still works as a stand-alone program with no dependencies.

Features: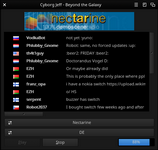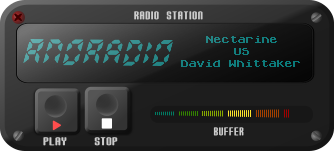 - Two GUI options: MUI or custom skin(s)
- Displays stream titles in real-time from the MP3 metadata
- Comprehensive station editor with an option to load station logos from a local drive or Internet
- Supports multiple streams per station
- Can import streams from PLS, M3U, Extended M3U, and XSPF playlist files
- Has a Shoutcast search window
- Animation support for custom skin elements, including a station's logo
- Alpha transparency support in custom skins with images and animations
- Can display extra information from stations, but currently it only shows the "OneLiner" chat from Nectarine in the MUI GUI

Please visit its homepage for more information, screenshots, and download links.
3 comments


Yes, Airsoft Softwair, the hardest working men in code business, did it again! This time we proudly present hURL - the ultimate multi-protocol data transfer plugin for Hollywood. Based on curl, hURL supports an incredibly wide range of transfer protocols, e.g. DICT, FILE, FTP, FTPS, Gopher, HTTP, HTTPS, IMAP, IMAPS, LDAP, LDAPS, POP3, POP3S, RTMP, RTSP, SCP, SFTP, SMB, SMBS, SMTP, SMTPS, Telnet and TFTP. Furthermore, hURL supports SSL certificates, HTTP POST, HTTP PUT, FTP uploading, HTTP form based upload, proxies, HTTP/2, cookies, user+password authentication (Basic, Plain, Digest, CRAM-MD5, NTLM, Negotiate and Kerberos), file transfer resume, proxy tunneling and more. It really is the ultimate data transfer engine for Hollywood, leaving nothing to be desired!

There are two ways of using hURL: There is a high-level interface that can directly hook itself into Hollywood's network library, enhancing it with hURL functionality like SSL/TLS support. This makes it possible to use Hollywood commands like DownloadFile() to download files using custom protocols that Hollywood itself doesn't support, e.g. SSL/TLS.

Another way of using hURL is the low-level interface: This interface allows you to access the curl API directly from Hollywood scripts. This is extremely powerful because it allows you to access hundreds of different curl options, making it possible to fine-tune hURL to your specific needs. Just to give you an idea of how powerful hURL is: it contains over 500 (!) commands to fulfil all your data transfer needs!

Finally, hURL comes, as usual for Hollywood plugins, with extensive documentation in various formats like PDF (over 300 pages!), HTML, AmigaGuide, and CHM that contains detailed descriptions about all functions and methods offered by the plugin.

All of this makes hURL the ultimate data transfer tool for Hollywood that contains everything you need to send and receive data via almost any transfer protocol on the planet.

hURL is now available for free download from the official Hollywood portal. Thanks to Hollywood's cross-platform plugin system versions for AmigaOS3 (m68k), AmigaOS 4, MorphOS, Linux (ppc, arm, x86, x64), Mac OS (ppc, x86, x64), Windows (x86, x64) and Android (arm, arm64) are provided.

Note that on AmigaOS and compatibles, AmiSSL 4.x is required by hURL. Since this isn't available in a native MorphOS version yet, you can just use the 68k version of AmiSSL 4 on MorphOS. It has been verified to work fine with hURL.

This release was brought to you by Airsoft Softwair, the hardest working men in code business.

Hollywood 8 is strictly required by hURL. Please consider buying Hollywood to show your support for our massive development efforts.
2 comments
Amiga Future monthly News March 2019
News posted by AndreasM on 31-Mar-2019 12:59:03 (165 reads)
4.3.2019
********
Amiga Future issue 137 released

The English and German issue 137 (March/April 2019) of the print magazine Amiga Future has been distributed today, and can also be ordered directly from the editorial office of Amiga Future, and the other Amiga dealers that stock the magazine.

Mag Content:

Review Trap Runner
Review SMBFS
igition Workshop #4

and so much more ... if you haven't already, get your collectable copy ordered today

A more detailed description of the contents and previews of this issue can be found at the Amiga Future magazine hompepage.
Read more
Looking for CD32 games for indieGO / CD32 combo re-release
Announcement posted by phoenixkonsole on 26-Mar-2019 19:16:33 (238 reads)
Hi,

we would like to support the remaining or interested programmers.
We are looking for new and or old CD32 games, in order to release them as indieGO / AmigaCD32 release.

The rules are:
You own the rights of or create a CD32 game based on your own existing Amiga Game (this version must feature additional content as like CD-AUDIO or FMV-Into or new levels*)
If you did already a CD32 game, you can contact as as well for releasing it as indieGO/CD32 game.

If you plan to work on a game but lack funding we may support you. So please just ask us ; )
We don't bite.

www.indiego.shop (or retro.shopping or ares-shop.eu)

*we can help you with the requirements.


Post comment
[ home ][ about us ][ privacy ] [ forums ][ classifieds ] [ links ][ news archive ] [ link to us ][ user account ]
Polls (Login to view/vote)