Your support is needed and is appreciated as Amigaworld.net is primarily dependent upon the support of its users.




Topic
Replies
Volley for Two - new C128 game!
16
New English-language Amiga Magazine!
2
AmigaMini
19
Why does speed differ when downloading Amiga content? (1, 2)
35
Amiga SIMD unit (1, 2, 3, ... , 9)
169
Possible Amigaworld.net Forum Software Update
1
AmiWest 2020: October 24th and 25th (1, 2, 3)
40
Should Amigaworld.net transition to the same forum software as A... (1, 2)
24
New message on amiga.com
7
MorphOS 3.14 out + new Browser Wayfarer (1, 2, 3)
57
»» Recent Topics »» Visit Forums



Hello there,

On October 14th at around 10:30 AM CET Server4you our hosting provider suffered an UPS failure which resulted in a good share of machines in their data center going down, including ours.

As of yesterday, most of the machines had been restored but sadly not ours. I contacted Server4you support and sometime between then and now the server is back up and running and appears to have suffered no ill effects

---
Sigurbjörn
7 comments
AmiWest 2020 in two weeks, Tabor & ExecSG updates announced
Amigaworld.net News posted by Petah on 10-Oct-2020 16:01:32 (712 reads)
For the past decade, US-based Amiga event AmiWest has been hosted in Sacramento, California by Sacramento Amiga Computer Club. The event is generally considered as one of the most important annual shows, with keynote speeches from heavy hitters such as ExecSG lead developer Steven Solie and A-EON head honcho Trevor Dickinson. In the past, these presentations have revealed hardware projects such as the (now defunct) Amiga laptop and OS development roadmaps. Thanks to online streaming, Amiga users from all over the planet have been able get a glimpse of what is currently going on behind the scene and what is planned for the future.

Running for two days starting Saturday October 24th, AmiWest 2020 will feature a new slew of presentations. These include a "full update" about ExecSG - the new AmigaOS kernel currently in development - by Solie and another one by Dickinson. In a blog update on Saturday, October 10th, Dickison announced that his presentation will be pre-recorded because of the ongoing pandemic, and that it will give followers an update on the highly anticipated Amiga A1222 Tabor computer.

AmiWest 2020 is expected to be broadcasted on YouTube starting 19:00 CET (10:00 PST/local time, 13:00 EST, 18:00 GMT, 02:00 JST, 04:00 AEDT). Release 4.1-users should be able to follow the stream using the YouTube URL Extractor script. Virtual attendees who want to interact with AmiWest officials and other users are encouraged to connect to AmigaWorld.net's own IRC server at irc.amigaworld.net using an IRC client of their choice, and join the #AmiWest channel.


3 comments
Wayfarer, a new web browser based on a modern mid-2020 branch of WebKit is now available for download from wayfarer.icu. This new app makes it possible to browse most of the web that have become off-limits for Odyssey with its ageing engine. Google apps like Docs, Drive and Maps with Street view are supported just as the Whatsapp or Telegram web interfaces.

Wayfarer will work on any machine running MorphOS 3.14 with at least 1GB of RAM. A 1.5GHz or faster CPU is recommended.

This port has been made possible by the concerted effort of the MorphOS developers, the MorphOS beta testers, translators and all of the users who donated to the project.
8 comments
Amiga Future monthly News September 2020
News posted by AndreasM on 1-Oct-2020 13:35:32 (230 reads)
3.9.2020
********
Amiga Future issue 146 released

The English and German issue 146 (September/October 2020) of the print magazine Amiga Future has been distributed today, and can also be ordered directly from the editorial office of Amiga Future, and the other Amiga dealers that stock the magazine.

Read More --->
Read more

Code business is back. Airsoft Softwair, the hardest working men in code business, are proud to present RebelSDL 1.1. RebelSDL is a plugin for Hollywood that allows you to use SDL (Simple DirectMedia Layer) from Hollywood. This makes it possible to write scripts that utilize the host system's graphics hardware to create high-performance, butter-smooth 2D animation that is produced completely in hardware by the GPU of your graphics board.


4 comments | Read more
Amigamers interviews Thomas Hertzler, the Rainbow Arts programmer who created the Amiga and Atari ST versions of The Great Giana Sisters. He will tell us about this period and his subsequent company, Blue Byte.

You can see the video ---->here<----


Follow us!!
Instagram|Twitter|Facebook|YouTube
Post comment
AmigaOS 3.1.4 Emulation - polish eBook
Announcement posted by radzik on 26-Sep-2020 11:54:22 (213 reads)
Last month, I published a new ebook about AmigaOS 3.1.4 - Emulation. From the book, you will learn how to configure the system from scratch, how to surf the internet, install games, play mp3, movies, and much more! The target is not only the emulated Amiga!

YouTube Showcase: https://youtu.be/Cp98959bWsk.

At this time, the eBook is only in Polish. Let me know if you want such a book in English!

eBook PL link: https://bit.ly/3hxupCs.
Post comment
Viva Amiga Extended Remix Released! Vimeo
Announcement posted by amigang on 24-Sep-2020 13:08:38 (446 reads)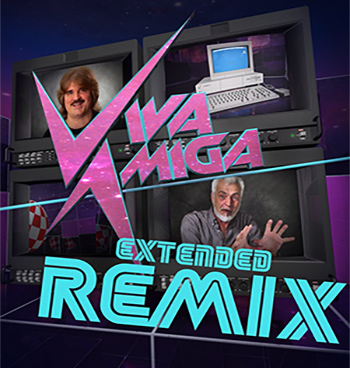 Brand new extended version of the acclaimed documentary Viva Amiga, a retro love letter to the best computer ever made: the Commodore Amiga.

This NEVER BEFORE RELEASED Extended Remix documentary has a running time of 2 hours 20 minutes.

Rent for £5.44 or Buy £10.11

https://vimeo.com/ondemand/vivaamigaremix

Or if you Kickstarted Vultures to Vampires You should of got a code / link to watch it. Its a great film!
https://www.kickstarter.com/projects/469255657/from-vultures-to-vampires/
5 comments
AmiKit XE 11.4 - free update for all WinUAE and Vampire users
software Classic posted by AmiKit on 15-Sep-2020 8:43:29 (628 reads)
APC&TCP: Update 1.14 for Roadshow TCP/IP stack available now
software Classic posted by AndreasM on 14-Sep-2020 17:13:40 (956 reads)
Slightly delayed by only two years, the free Roadshow TCP/IP stack 1.14 update is now available to all customers.

This update fixes a number of long standing bugs, improves performance and accuracy in the TCP/IP stack itself, as well as adding new features to the shell commands which ship with it.

12 comments | Read more
[ home ][ about us ][ privacy ] [ forums ][ classifieds ] [ links ][ news archive ] [ link to us ][ user account ]
Polls (Login to view/vote)