Your support is needed and is appreciated as Amigaworld.net is primarily dependent upon the support of its users.

AmigaOS 4: UFRaw 0.22 for AmiCygnix released
software OS4 posted by CygnusEd on 6-Dec-2019 21:50:15 (161 reads)
With UFRaw you can edit and convert RAW images. The program is based on Dave Coffin's "DCRaw" and supports various formats.

UFRaw can be used standalone and as a plug-in for the image editor "The Gimp". Is automatically detected and queried during the installation of UFRaw.

Read more
AmigaOS 4: Claws-Mail 3.9.2 for AmiCygnix released
software OS4 posted by CygnusEd on 4-Dec-2019 17:48:23 (115 reads)
A new release of "Claws-Mail" is now available on OS4-Depot.
Claws-Mail is an email client based on GTK+. Lots of extra functionality, like an RSS aggregator or a calendar, are provided by extra plug-ins.
Read more
AmigaOS4: EasyTAG 2.1.8 for AmiCygnix released
software OS4 posted by CygnusEd on 2-Dec-2019 19:53:24 (104 reads)
A new version of the tag editor "EasyTAG" is now available on OS4-depot.

EasyTAG is a tool for viewing and modifying tags in audio files. It has an
easy-to-use GTK2 interface. To run an installed AmiCygnix environment version
1.2 is required.


Read more
Amiga Future monthly News November 2019
News posted by AndreasM on 1-Dec-2019 17:20:43 (95 reads)
6.11.2019
*********
Amiga Future issue 141 released

The English and German issue 141 (November/December 2019) of the print magazine Amiga Future has been distributed today, and can also be ordered directly from the editorial office of Amiga Future, and the other Amiga dealers that stock the magazine.


Read more
Hi guys!

Today the 2.0.2 version of GoADF (build 2934) has been made public available for everyone.

GoADF! is more than just your average ADF disk writing tool. It shows information about your ADF files, like filesystem type, used/free space on disk, and more, it can extract individual files from an ADF, it can mount ADFs as a logical drive to AmigaOS, of course it can write your ADF files to floppy disk, and it does a couple of other useful things.

In this release the GoADF supports many formats of floppy images: ADF, ADZ, DMS and HFE (from Gotek hardware emulator).

There is also new module for convert files from ADF/ADZ/DMS/HFE to ADF/ADZ.


2 comments | Read more
Hi guys

I'm happy to announce that after a while designing, i got the first beta prints made for the
Amiga 2000 Front cover with smaller drive bays to fit 2 gotek drive like an DD diskdrive.

Its printed in parts which results in better quality.





Order now !!


If you like the idea of my website to make stuff for our Amigas please support me .


Have a great time with the Amiga and see you soon!



regards


3 comments
The Multitheme #1 add-on is now available freely for Ask Me Up XXL, the quiz of general knowledge released for AmigaOS 4, MorphOS and Windows computers. It includes 400 new questions, divided into 15 themes!

9 comments | Read more
Ask Me Up XXL 3.5, the quiz of general knowledge, has been released for AmigaOS 4.1, MorphOS and Windows computers. Play alone and share your high scores with the wider world or play simultaneously with five players, it's up to you!


10 comments | Read more
A post about work on API2 has been published on Patreon. You can read in it about the next element of this project, the new programming language and its compiler. The language should be much simpler to use than "C" and require less code to achieve the same effect. There are also code samples which can be compiled with current version of compiler and resulting output files can be run.

4 comments
Italy, November 12, 2019 - RETREAM is delighted to announce the release of Blastaway, a highly playable and entertaining arena shooter, gameplay-wise heavily and shamelessly inspired to Wizard of Wor and graphically somewhat inspired to The Chaos Engine. Graphics have been pixelled by hand and music has been tracked as modules to let the player live a true 16 bit experience. And the 50 arenas, spread over 5 different stages, have been designed to make that experience intensely enjoyable... and last long! Are you brave enough to step into the arenas and clear them of the wors they swarm with?

Gameplay video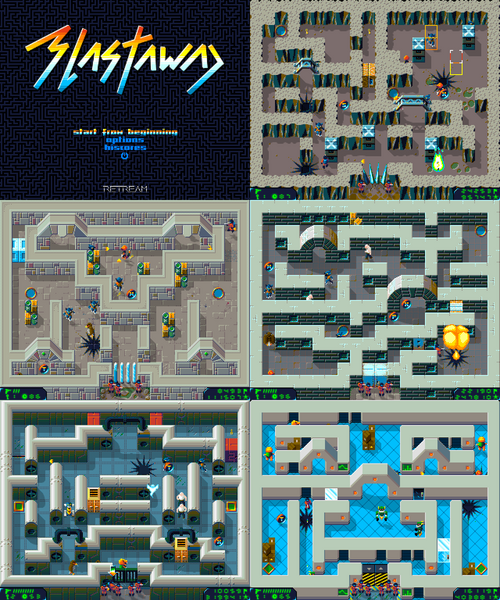 (click to enlarge)

Blastaway runs on AmigaOS 4 and Windows. And it's... free!

Blastaway page
RETREAM
RETREAM on itch.io
RETREAM on Twitter
RETREAM on Patreon
8 comments
[ home ][ about us ][ privacy ] [ forums ][ classifieds ] [ links ][ news archive ] [ link to us ][ user account ]
Polls (Login to view/vote)