Your support is needed and is appreciated as Amigaworld.net is primarily dependent upon the support of its users.

Adventure game "Ermentrud" is coming this year finally
software Classic posted by Timo on 21-Feb-2021 17:57:30 (278 reads)


The point'n'click adventure "Ermentrud" was originally developed between 2001 and 2004 for Amigas with a graphics card, but then abandoned. It was set in a medieval world and offered an absurd plot with absurd humor. And the hero had a cardboard horse.

Website

It will be released this year after all, even if not in the scope planned at the time. It will contain all the original graphics, sounds and music, but the storyline will be revised.

So far only a German version is planned. It is not yet clear whether there will be other languages. The game will be available for free.

Read more for more info...
1 comment | Read more
The Amiga Future magazine - Issue 149 preview is now available to view online
Amigaworld.net News posted by AndreasM on 16-Feb-2021 11:09:25 (269 reads)
This is the full colour preview and excerpts of the Amiga Future magazine, issue 149 (March/April 2021) that can now be viewed online on the Amiga Future website.

Some of the interesting articles in this issue are:

Interview Adrian Cummings
Review AmigaOS 4.1 Final Edition - Update 2
Review MiSTer

Of course there's so MUCH more actually in the magazine.

Click the "Read More" button for more info -------->
Read more
After years of silence The Maestrix has an update!
software Classic posted by Hypex on 9-Feb-2021 15:54:31 (729 reads)
Hello everyone.

Yes, after years of silence, The Maestrix is back making some noise with a new update!


Describing The Maestrix?

Maestix MaestroPro driver simulator that redirects audio to AHI.

Where is The Maestrix?

Here on Aminet
http://aminet.net/package/driver/audio/TheMaestrix

Read more for new features
6 comments | Read more
Kea Sigma Delta's Amiga laptop project pushes forward, now redesigned
hardware OS4 posted by Petah on 9-Feb-2021 15:54:00 (171 reads)
AmigaWorld.net regulars may remember that Hans de Ruiter - head of the New Zealand based Amiga development company Kea Sigma Delta and author of the Radeon graphics card drivers that a lot of current generation Amigas rely on - is committed to designing a laptop PowerPC powered Amiga.

On Monday, February 8th de Ruiter took to YouTube to announce that the project has been restarted. While no specific reasons were mentioned in the unlisted video, de Ruiter suggested that a fresh start will allow for a more solid platform to build on.

Although details outlining the new design are promised up ahead, the new revision is said to have a whole different power management and display setup. Interested users are encouraged to follow Kea Sigma Delta's future endeavours by signing up to the company's laptop mailing list.


Post comment
Amiga Future monthly News January 2021
News posted by AndreasM on 31-Jan-2021 13:22:20 (377 reads)
11.1.2021
*********
Amiga Future issue 148 released

The English and German issue 148 (January/February 2020) of the print magazine Amiga Future has been distributed today, and can also be ordered directly from the editorial office of Amiga Future, and the other Amiga dealers that stock the magazine.

Mag Content:

Review Wayfarer
Review Bifrost A1200 Heimdall Edition
Interview Christian Weber

and so much more ... if you haven't already, get your collectable copy ordered today

A more detailed description of the contents and previews of this issue can be found at the Amiga Future magazine hompepage.

Information: https://www.amigafuture.de/app.php/kb/index?c=13
Orders: https://www.amigashop.org
Read more
Croatian Amiga WARP Organization published new calendar for year 2021 and it is available in PDF format in English and Croatian language. This calendar is made 100% on Amiga with Amiga software. This is 10th jubilar calendar in history of Amiga WARP Organization. Calendars are free for download on Amiga WARP Organization webpage.

Calendars can be downloaded at: Amiga WARP Organization


Post comment
Hotfix for AmigaOS 4.1 Final Edition Update 2 available for download
Announcement posted by kas1e on 12-Jan-2021 20:53:46 (1774 reads)
Some users of update 2 for AmigaOS4.1 Final Edition have experienced stability issues after updating. This hotfix addresses these stability issues and fixes a couple of other minor issues found after the release of update 2.

The hot fix is free to registered users of AmigaOS 4.1 Final Edition and can be found in the download area at https://www.hyperion-entertainment.com/.It will also be made available via AmiUpdate.

The hotfix should only be applied on top of the original update 2 package released on December 23,2020!

Read more...
7 comments | Read more
The Amiga Games List, a document created and maintained by David Brunet since April 1991, was updated on January 12, 2021 with the publication of its 51st edition. Among other news and corrections, games published or updated in 2020 have been added, and games created with Scorpion Engine and Haktar are now included. In addition, older games (AOS, OCS, AGA, etc.) that can also be played on an Amiga NG system (MOS, AROS, OS4) via an interpreter are now marked [+Interpreted]. The total is now 13,267 entries, including games, level editors, data disks, extensions and interpreters, which are distributed as follows:

12,664 games.
338 extensions and data disks.
146 game or level editors.
119 interpreters.

And for the anecdote, the number of native OCS/ECS titles has crossed the 10,000 mark.

Link:http://obligement.free.fr/listejeuxamiga/listejeuxamiga.php
Post comment
Amiga Future issue 148 released
News posted by AndreasM on 11-Jan-2021 11:20:18 (183 reads)
The English and German issue 148 (January/February 2020) of the print magazine Amiga Future has been distributed today, and can also be ordered directly from the editorial office of Amiga Future, and the other Amiga dealers that stock the magazine.

Mag Content:

Review Wayfarer
Review Bifrost A1200 Heimdall Edition
Interview Christian Weber

and so much more ... if you haven't already, get your collectable copy ordered today

A more detailed description of the contents and previews of this issue can be found at the Amiga Future magazine hompepage.

Information: https://www.amigafuture.de/app.php/kb/index?c=13
Orders: https://www.amigashop.org
Post comment
Happy New Year !

Thank you to everyone who supported us in the last year. Thanks to our loyal customers, suppliers, developers and friends.

We have some great new hardware and software products arriving in 2021.

AmigaKit Ltd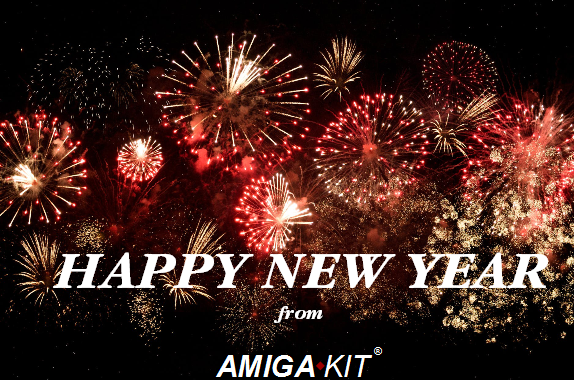 4 comments
[ home ][ about us ][ privacy ] [ forums ][ classifieds ] [ links ][ news archive ] [ link to us ][ user account ]
Polls (Login to view/vote)