Your support is needed and is appreciated as Amigaworld.net is primarily dependent upon the support of its users.




Topic
Replies
Discover and watch streams on Mixer.com and Twitch.tv on your Am...
1
i-RAM for sam440ep...
16
Huenison updated
8
Trevor's Amiga Blog (1, 2, 3, ... , 62)
1230
We're being beaten to the punch again
18
Amigas on the cheap
11
Getting outside programmers interested (1, 2, 3, ... , 6)
100
AMOSPRO X : Many said "it's impossible" ... But I...
8
RISC-V open ISA
3
[POLL] What's stopping ACube from selling their Amiga compu... (1, 2, 3)
44
»» Recent Topics »» Visit Forums



Ask Me Up XXL 3.5, the quiz of general knowledge, has been released for AmigaOS 4.1, MorphOS and Windows computers. Play alone and share your high scores with the wider world or play simultaneously with five players, it's up to you!


2 comments | Read more
A post about work on API2 has been published on Patreon. You can read in it about the next element of this project, the new programming language and its compiler. The language should be much simpler to use than "C" and require less code to achieve the same effect. There are also code samples which can be compiled with current version of compiler and resulting output files can be run.

Post comment
Italy, November 12, 2019 - RETREAM is delighted to announce the release of Blastaway, a highly playable and entertaining arena shooter, gameplay-wise heavily and shamelessly inspired to Wizard of Wor and graphically somewhat inspired to The Chaos Engine. Graphics have been pixelled by hand and music has been tracked as modules to let the player live a true 16 bit experience. And the 50 arenas, spread over 5 different stages, have been designed to make that experience intensely enjoyable... and last long! Are you brave enough to step into the arenas and clear them of the wors they swarm with?

Gameplay video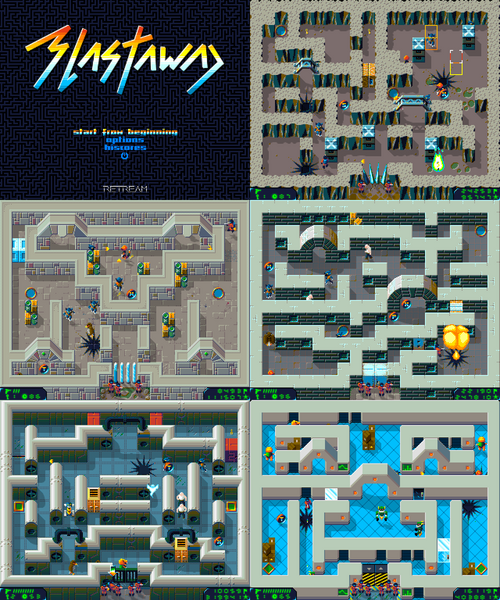 (click to enlarge)

Blastaway runs on AmigaOS 4 and Windows. And it's... free!

Blastaway page
RETREAM
RETREAM on itch.io
RETREAM on Twitter
RETREAM on Patreon
2 comments
Amiga Future issue 141 released
News posted by AndreasM on 6-Nov-2019 14:46:22 (345 reads)
Amiga Future issue 141 released

The English and German issue 141 (November/December 2019) of the print magazine Amiga Future has been distributed today, and can also be ordered directly from the editorial office of Amiga Future, and the other Amiga dealers that stock the magazine.

Mag Content:

Show Report Evoke 2019
Review Vampire V4 Standalone
Review Amiga Forever

and so much more ... if you haven't already, get your collectable copy ordered today

A more detailed description of the contents and previews of this issue can be found at the Amiga Future magazine hompepage.

Information: https://www.amigafuture.de/app.php/kb/index?c=13
Orders: https://www.amigashop.org





Post comment
New articles on Obligement
News posted by Daff on 1-Nov-2019 14:06:41 (606 reads)
The following articles have been added to the website of the french Amiga magazine Obligement (http://obligement.free.fr) during the last two months:

Read more
Amiga Future monthly News October 2019
News posted by AndreasM on 1-Nov-2019 13:24:44 (453 reads)
2.10.2019
*********
Amiga Future Everywhere: AmigaOS 3 and 4 Dockie Update

The Amiga Future AmigaOS 3 and AmigaOS 4 News Dockie released in the Version 1.05.

We are still looking for programmers for other systems (MorphOS, AROS, Windows and others).

The Amiga Future Everywhere 68k and AmigaOS 4 is a news dock.

The headlines of the news reports are displayed with a link to the respective news message.

The actual news message can then be read with a simple click in the browser of your choice.

You can choose how often new news are checked. In addition, you can of course choose different types of notification.

You can also set whether you only get news in German, English or both languages.

Dowload: https://www.amigafuture.de/app.php/everywhere/

https://www.amigafuture.de



Read more
For those who are not familiar with Fastloaders, they are a band from Norway who are known for their brilliant renditions of computer game music - particularly from the 8-bit era (with a large penchant for C64 tunes).

FastLoaders are the band behind Ninja Musicology, Progressive 64, Rock Hubbard, and the Ninja Musicology "Live from the Dungeons" CD & Blu-ray.

They also performed live at Back in Time 2015 in Brighton, in 2016 at London's Underworld club where they shared the stage with Ben Daglish, and in 2018 where they performed classic C64 and Amiga hits at their own Back in Time 2018 event in Bergen, sharing the stage with Chris Huelsbeck and Reyn Ouwehand! More recently they were at the Back In Time 2019 event held on Oct 18/19 in Bergen.

Read more...
3 comments | Read more
New Game: AI

AI was made for Christiandevs annual Speedgame 2019 competition where it became #1 in both categories of "Best Fun Game" (shared #1) and "Most Original Concept", in which AI scored the maximum score of 5 points.

Overall ending however only at #4.


In AI you are in control of an AI sending Robots to kill Humans.

There's a catch however, you cant control Robots individually, but you can only control from where and when to send Robots, and what ALL Robots will be targeting at any time and then Robots will themselves decide how to achieve it.

The version sent to the competition is not the same as this release version. This release version is worked a bit further, adding such features as Save Game (autosave), Upgrades, bug fixes, other tweaks, and the possibility to actually complete the game properly.


1 comment | Read more
The Amiga Future magazine - Issue 141 preview is now available to view online
News posted by AndreasM on 23-Oct-2019 16:10:06 (803 reads)
This is the full colour preview and excerpts of the Amiga Future magazine, issue 141 (November/December 2019) that can now be viewed online on the Amiga Future website.

Some of the interesting articles in this issue are:

The Niggemann Files
Show Report Gamescom 2019
Review Vampire V4 Standalone

Of course there's so MUCH more actually in the magazine.

Needless to say you often get other versions of software, often what was commercially available, as well as some of the latest try-outs or freely released software applications and games for, hopefully, all of the Amiga type Operating systems, so that's Amiga 'Classic', OS4, MorphOS, and AROS, including some PD software for these systems, all on the Reader's cover CD.

A detailed description of this issues contents and excerpts can be found at: http://www.amigafuture.de/kb.php?mode=cat&cat=13

The Amiga Future magazine is available as an English and German printed magazine - every issue is available in FULL COLOUR - directly available from the magazine editorial office and also from various other Amiga dealers.

Preview: https://www.amigafuture.de/app.php/kb/index?c=13
Orders: https://www.amigashop.org

https://www.amigafuture.de
http://www.apc-tcp.de



Post comment
[ home ][ about us ][ privacy ] [ forums ][ classifieds ] [ links ][ news archive ] [ link to us ][ user account ]
Polls (Login to view/vote)