Your support is needed and is appreciated as Amigaworld.net is primarily dependent upon the support of its users.








New release of AROS One x86, many new features included in this new version, the possibility to change all the Blue DualPNG icons of the system to the new White DualPNG icons with a simple click.

Many software have been updated and new software has been added, even the games section includes new games installed.

AROS One x86 v1.9 includes the "Aros One x86" manual in PDF, GUIDE, HTM and DOC (PC-Windows) formats.

More information on all updates can be found in the attached list:


AROS One is distributed in DVD (ISO) format or USB image from "burned to Pendrive", useful as Live system or to quickly install AROS One on PC.

To burn the USB image AROS One we recommend the use of the excellent [URL=https://rufus.ie/][B]Rufus[/B][/URL] or [URL=https://www.balena.io/etcher/][B]Etcher[/B][/URL])


AROS One x86 v1.9 ISO DVD: Download

AROS One x86 v1.9 USB Flash: Download


These are the many new features:

Update AROS One System:
- AROS One English Manual in PDF, GUIDE, HTM, DOC format
- AROS One Italian Manual in PDF, GUIDE, HTM, DOC format
- New "White" Folder Icon Set (to be installed)
- Update "Blue" Folder Icon Set
- Updated Application Icons Set (better quality)
- Installer Iconset White or Blue (Folder Extras)
- Fix "DiskInfo"
- i8042.hidd (fixes Touchpad problems on some PCs)
- Update Dopus4 Config (add Mount/Eject ADF/DMS)
- Dopus4 Preset Palette Skin (Gray,White)
- Update Wanderer (add def_Icons Mount/Eject ADF/DMS)
- Auto Mount from Icon ADF, DMS and IMG (MS-DOS Floppy) Image File
- Auto Mount from Icon ISO CD/DVD Image File
- Icon to install NTFS-Handler For Mount Disks or Partitions NTFS (Read and Write)
- New Backdrop ArosOne created by "Damir"
- Added Theme by "Damir" PixBlue (Tab resize)
- Added Theme by "Damir" Pills (Tab resize)
- Added Theme Style AfA OS
- Shell-Color (Shell-Black, Shell-White)
- CLS v1.0 (Compiled by me for AROS x86)
- libglfw.i386-aros
- libglew.i386-aros
- Added RNOTunes.catalog (Italian)

Update AROS One App:
- Amitube v1.3
- PerciMan v0.7.5
- Vim v8.2.4424
- PintorWeb 3.20
- BeeBase v1.0
- uCommander
- Murks IDE v0.6.1
- WebpTools v1.2.4
- UHCTools v1.6
- HWP AVCodec v1.5
- TextMio v0.2
- AnimWebConverter v5.00
- PortablE r6b
- RNOEffects v1.4
- RNOTunes v1.0
- RNOInfoScreen v1.8
- Image2PDF v1.2

Update Games:
- SuperMarioWar
- Beret
- Gilbert
- GianaReturn
- SuperTux
- SuperTux


23 comments (1 , 2)


link:
https://sites.google.com/view/retro-emulator-vision-and-game

Post comment
Looking for a Video of a Commodore collection including a Commodore LCD com
Announcement posted by sibbi on 24-Nov-2022 13:22:12 (539 reads)
The group working on the Commodore LCD restoration project as well as the Commodore Historic Society is looking for a video posted on YouTube sometime in the time period between 2005-2010. A teen shooting the video was taken to a basement of a collector which had a Commodore LCD machine on a shelve along with other rare stuff such as a C65. If anyone remembers this, please post the URL of the Video as a reply to this news item. There are very few of these machines known in existence and knowing the history of why that individual came to own one of them could be important.


3 comments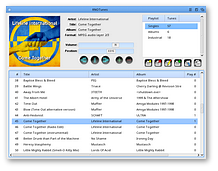 RNOTunes is a GUI based audio player application with support for many different audio formats, embedded cover images, and Last.fm scrobbling. A video demonstration of the program is available on YouTube.

The program is available for AROS (i386), AmigaOS 3 (68k and WarpOS), AmigaOS 4, and MorphOS. Please visit its homepage for more information, screenshots, and download links.

Features:
- Supports MP3, FLAC, Ogg Vorbis, AAC, AIFF, WAV, Protracker, DigiBooster, SID, AHX, FastTracker II, ScreamTracker, OctaMED, The Player, NoisePacker, ProRunner, Oktalyzer, Impulse Tracker, Ultra Tracker, Ice Tracker, Liquid Tracker, Quadra Composer, and many other formats
- Configurable GUI with a cover image display
- Loads embedded cover images and other metadata from MP3, FLAC, and Ogg Vorbis files
- Built-in Last.fm scrobbler
- Lyrics display
- Tune properties editor which saves changes to a local database
- Internal playlists
- Import and export playlists from Jukebox, AMPlifier, etc
- Automatic/manual saving of the last session
- All time playcount saving
- Tune rating option
- Extensive file selection functionality
- File delete option
- ARexx, command line, and tooltypes support

RNOInfoScreen has also been updated to support RNOTunes and a new version of it has been released now.

9 comments

Portabl E is my recreation of the AmigaE programming language, along with most of the improvements I have wanted. Portabl E works on AmigaOS4, AROS, MorphOS, as well as even Linux & Windows! (It should also work on AmigaOS3, but compiling needs a powerful machine like WinUAE.)

This is the finished r6 release, with the "beta" tag removed, although it hasn't really been beta since the last couple of release..

See the main manual for what has changed since r5. The biggest changes since the last r6 beta release include:
* Added basic Linux support (64bit x86 only), to the same level as Windows, i.e. Shell-only, with no graphics or internet access. This was a major effort, partly due to all the differences (64-bit pointers, case-sensitive filing system, mount-points anywhere, etc), and partly due to all the C headers that needed to be converted.
* Linux: PEGCC now supports cross-compilation (for Amiga & Windows) using the TargetOS parameter, as long as an appropriate GCC cross-compiler is installed.

* Programs will now compile using the latest SDK of AmigaOS4, AROS and MorphOS.
* All OS procedures that can support unlimited parameters now do so, including the Amiga's SystemTags().
* AmigaOS3: No-longer needs a modified "intuition/classusr.h" file.
* Added the 'std/pUnsigned' module, to provide basic support for unsigned number types, and the example program "Examples/std/Shell/crc32.e". Useful for porting certain C algorithms.
* Added the procedures InStrNoCase(), BigMax(), BigMin(), BigFastMod(), IsBigEndian() & IsLittleEndian().
* In 'std/pTime', improved CurrentTime() to take a timezone parameter.

* Fixed FastNew() (and so NEW) which would trash memory, instead of raising the "MEM" exception, if it failed to allocate memory. Thanks to Dimitris Panokostas for reporting symptoms of this long-standing bug, especially as I don't see out-of-memory errors on the OSes I normally use.
* Amiga: The installer would fail at "Copying executables..." if the user-specified path for executables did not contain any (sub) folders, such as "C:" (which sadly was the default). Many thanks to "Zendarion" for the bug report.
* Windows: In 'std/pTime', CurrentTime() now returns the correct time when DST is in effect.

* I've renamed the language from "PortablE" to "Portabl E" with a space, in the hope of making it more easily searchable on the internet (as well as clarifying how to pronounce it). But the "PortablE" command name itself is unchanged.

You can download it from here:
cshandley.co.uk/portable
OS4Depot
The new release is not YET available from Aminet, as I'm still struggling to get it uploaded, but hopefully eventually the new version will be here:
Aminet

Portabl E comes with documentation, but you can always find the latest version & on-line documentation from it's homepage:
cshandley.co.uk/portable
9 comments
Amiga Future issue 159 released
News posted by AndreasM on 5-Nov-2022 13:03:17 (560 reads)
The English and German issue 159 (November/December 2022) of our print magazine Amiga Future has been distributed today, and can also be ordered directly from our editorial office at Amiga Future, and from other Amiga dealers that stock it.

Magazine Content:

Demoscene
Review Pagestream
Review Dynatech 30th Anniversary Edition

and so much more ... if you haven't already, right now might be the best time to get your collectable copy ordered, before they're all sold out!

For a more detailed description of its contents and previews of this issue click-on link of the Amiga Future magazine hompepage.

Information: https://www.amigafuture.de/app.php/kb/index?c=13
Orders: https://www.amigashop.org https://www.amigashop.org


2 comments


On November 4th 2002, Airsoft Softwair, the hardest working men in code business, released Hollywood 1.0 for 68k AmigaOS. Originally advertised as a multimedia authoring solution, nobody would have expected back then that this software would turn into a cross-platform programming language for lots of platforms with dozens of plugins for all kinds of tasks. Now, 20 years later, Hollywood is still going strong, receives regular updates and new plugins, and is used by many people around the globe. All of this would not have been possible without the continued support of many Hollywood enthusiasts in the past 20 years. Only the positive feedback we received right from the start made us continue developing Hollywood into what it is today.

As a little "thank you", we proudly present yet another plugin for Hollywood: XLSX. The XLSX plugin makes it possible to conveniently read and write XLSX documents from Hollywood scripts. It offers a wide variety of functions to set and get cell values, cell types, cell formulas, document/worksheet properties and several other attributes. It also offers an iterator function for a high performance iteration of a large number of cells.

On top of that, the XLSX plugin also supports the new serialization interface introduced in Hollywood 9 which means that scripts can conveniently serialize Hollywood tables to XLSX documents by just a single call to Hollywood's SerializeTable() function. In the same manner scripts can also deserialize whole XLSX documents into Hollywood tables by a single call to Hollywood's DeserializeTable() function. It just doesn't get any easier!

Of course, the XLSX plugin also comes with detailed documentation in various formats and integrates seamlessly in the Hollywood IDE, including live help. The XLSX plugin is now available for free download from the official Hollywood portal. Thanks to everybody for all the support in the past 20 years and here's to the next 20 years, cheers!

This release was brought to you by the hardest working men in code business.
3 comments
New articles on Obligement
News posted by Daff on 1-Nov-2022 15:42:55 (481 reads)
The following articles have been added to the website of the Amiga magazine Obligement (http://obligement.free.fr) during the last two months:

- September/October 2022 news.
- Old articles from Joystick 55 to 65: Interview with Jérôme Bonaldi and David Gonner, Review of All New World Of Lemmings, Review of Flink CD32, Interview with Stéphane Picq, File: And if piracy was essential, Review of Pinball Illusions, Review of Sim City 2000, File: Music in video games, Review of Alien Breed Tower Assault, Review of Cannon Fodder 2, News: Atried Concept my new name is Pearson, Review of Fields Of Glory, Review of Super Stardust, etc.
- Report: Amiga 37.
- Interview with Jérôme Senay (editor of Boing magazine).
- Interview with Matt Gray (musician).
- Review: Wrong Way Driver.
- Review: BePlayer 1.4.
- Hardware: Furia EC020.
- File: History of Trecision (part 2).
- Tutorial: Building an AmigaOS 4 cross compiler (Binutils 2.23.2 & GCC 8.3.0) on MSYS2.
- Tutorial: Installing MorphOS (update).
- DIY: Mounting an HxC SD and a floppy drive in an Amiga 600.
- Misc: Irving Gould's villa.
- Special quiz on MUI.

Rendez-vous on http://obligement.free.fr for this nice reading.
Our Twitter page: https://twitter.com/obligement
Feel free to contribute. Please contact David "Daff" Brunet for more info.

Post comment
Special Amiga37 Edition of AmiKit for Raspberry Pi
Announcement posted by AmiKit on 30-Oct-2022 21:37:26 (1026 reads)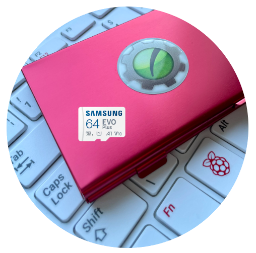 A pre-installed AmiKit on a bootable 64GB microSD card in a stylish branded case (for up to 24 microSD cards) is now available for purchase online. It was first introduced at amazing Amiga37 show in Germany (check our photos and videos from there on Facebook).

PURCHASE LINK: www.amikit.amiga.sk/raspberry



3 comments | Read more
[ home ][ about us ][ privacy ] [ forums ][ classifieds ] [ links ][ news archive ] [ link to us ][ user account ]
Polls (Login to view/vote)