Your support is needed and is appreciated as Amigaworld.net is primarily dependent upon the support of its users.




Topic
Replies
[POLL] What do you think MEGA is currently up to? (1, 2)
21
New BlackBird desktop Power 9 mobo $1199, AmigaOS MUST be ported... (1, 2, 3, ... , 5)
95
Amiga 3000 inspired Mini ITX computer case Kickstarter launches ...
7
Been Way Away Way Too Long
4
Wings Remastered Released? (1, 2, 3, ... , 8)
157
Something new and interesting for A1200
15
Updater tool: latest releases and updates (1, 2, 3, ... , 6)
101
Maxon Magic up for sale
0
[UPDATED] Black Friday & Cyber Monday 2020 - post your AmigaOS/C...
0
Spotted on Tom's Hardware: raspberry-pi-400-pimiga-project
4
»» Recent Topics »» Visit Forums



A1200 Flash Expansion is here!
www.amigakit.com/a1200flash

AmigaKit Ltd is pleased to announce our new A1200 user writable flash eaxpansion card with Fast Memory and 40Mhz FPU option.

Flashing is easy
No more burning ROMs, custom ROM images are now possible and easily put together with the powerful software. Flash the card and the software is available instantly as soon as you power on your Amiga 1200!

Load Configurations Fast
Configurations can then be easily and quickly selected by holding down F1 during reset and selecting the image from our custom Early Boot Menu.

Low Cost- High Quality
We work hard to produce new and innovative hiqh quality products at great prices.

The card has other great features such as Real Time Clock option and second clockport.

Features:

8MB 32-bit Fast RAM to boost total system memory to 10MB

4MB NAND Flash - writeable to make software available on boot

Flash Configuration Tool included (requires MUI to be installed)

Memory auto configures with no drivers required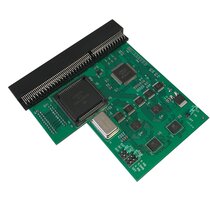 Second clockport header to give computer more expandability

Floating Point Unit socket accepting optional 68882 PLCC FPU up to 40Mhz

Memory can be configured to 4MB, 5.5MB or 8MB Fast RAM using on-board jumpers or early boot menu.

PCMCIA compatible in 4MB or 5.5MB mode**

Header for optional Real Time Clock module: available installed at special price

New version 2.0 (November 2020)

We are pleased to bring this high quality product to the community at our low prices.

Product Links:

UK
USA
Europe
Canada
Australia
New Zealand


2 comments


A=EON Technology Ltd is pleased to announce a new public update to the MultiEdit text editor: version 1.13 is now available on the Updater utility

It has been made available as a free download to customers who have purchased the standalone MultiEdit from AMIStore in 2016*

Additionally any customer who has previously purchased the commercial version of the Enhancer Software will be able to download it for free from the Updater utility.

This free update is not available on AMIStore directly: to download it you must have Updater installed on your system. If you have not previously purchased the commercial version of the Enhancer Software, the easiest way of doing this is to download and install the free of charge Enhancer Software Core. The Core edition contains the Updater utility and will give you access to the free of charge update to MultiEdit under the System tab.

The latest MultiEdit requires the new Toolbar Gadget Class. Please install that to your system using Updater at the same time that you update MultiEdit.


* requires Updater and Toolbar GC to be installed



20 comments
The game package for AmiCygnix is now available in a revised version. There are a total of 24 games included. Most are board or card games, but a shoot 'em up and fractal explorer are also included.

Read more for changes
3 comments | Read more
Wiz (Amiga AGA) platformer by Mutation Software is released
software Classic posted by utri007 on 11-Nov-2020 9:04:07 (548 reads)
Originally Posted By: ASiegel. on 2020/11/4 23:47:15 on Morph.Zone























Click Read More ------------>

3 comments | Read more
Amiga Future issue 147 released
News posted by AndreasM on 4-Nov-2020 12:06:18 (184 reads)
The English and German issue 147 (November/December 2020) of the print magazine Amiga Future has been distributed today, and can also be ordered directly from the editorial office of Amiga Future, and the other Amiga dealers that stock the magazine.

Mag Content:

Special 68k CPUs and their counterfeits
Review A314
Review Smarty And The Nasty Gluttons

and so much more ... if you haven't already, get your collectable copy ordered today

A more detailed description of the contents and previews of this issue can be found at the Amiga Future magazine hompepage.

Information: https://www.amigafuture.de/app.php/kb/index?c=13
Orders: https://www.amigashop.org

Post comment
New articles on Obligement
News posted by Daff on 1-Nov-2020 11:56:18 (486 reads)
The following articles have been added to the website of the french Amiga magazine Obligement (http://obligement.free.fr) during the last two months:

- September/October 2020 news.
- Old articles from Joystick 10 to 12: News: The blitzkrieg of Storm Computers, Interview with Marc Djian, Review of Total Recall, Review of Metal Masters, Review of Globulus, Report: Salon De La Micro 1990, Interview with Brian Fargo, Review of Death Trap, Review of Ultima 5, News: Simulation of the London subway, Report: SICOB Micro 1990, Review of Cadaver, Review of Super Skweek, etc.
- Interview with Richard Lowenstein (Reshoot developer).
- Interview with Manuel Fernández Higueras (SiDi designer).
- Interview with Andy Smith (Amiga Format/Sega Power).
- Review of Wayfarer.
- Review of Mr Beanbag.
- Hardware: Turbo Chameleon 64 V2.
- Point of view: My real story of Grand Theft Auto.
- File: Classic Reflections - What happened to Phase 5? (1st part).
- DIY: An Amiga 1200 in a DVD reader.
- Tutorial: Utilization of the new MorphOS 3.10+ print system.
- Misc: Manual of the Action Replay MKIII.
- Special quiz about RoboCop 3.

Read more
Amiga Future monthly News October 2020
News posted by AndreasM on 31-Oct-2020 13:28:36 (420 reads)
10.10.2020
**********
Amiga Future 147 Member-Preview online

From today and applying to all Amiga Future 1-Year-Subscribers you can find in the Member's Part of the Webpage the online Preview and Reading try-outs of Amiga Future magazine - Issue 147.

http://www.amigafuture.de/viewforum.php?f=12



Read more



A-EON Technology Ltd is pleased to confirm immediate download available of the Enhancer Software Core V1.1 for OS4.

An AmiSphere user account is required to register and download it free-of-charge from the www.AmiSphere.com website.

What is the Enhancer Software Core?

It is a free-of-charge version of the Enhancer Software Core containing classes, libraries and system files for users who have not purchased any version of the Enhancer Software previously. It also contains the SDK for developers to build their own projects around the Enhancer Software.

A-EON Technology has released this software at no charge to encourage further development in the community.

The files contained in it are essential to run any applications, utilities or programs created with the Enhancer Software.

Important Note: if you previously purchased any other edition of the Enhancer Software you will not need to register for access to this edition.

What is new in the Core edition ?

The components of the Enhancer Software sections are installed in this order:

1. Datatypes:
LogFile Datatype

2. Gadgets and Classes:
Anim Gadget Class
Clock Gadget Class
DateSheet Gadget Class
InfoData Gadget Class
InfoWindow Class
ListViewer Gadget Class
OptionButton Gadget Class
PieChart Gadget Class
ProgressBar Gadget Class
Select Gadget Class
SliderBar Gadget Class
Shared Image Class
Thumblist Gadget Class
TickBox Gadget Class
Time Gadget
ToolBar Gadget

3. System:
AmiSphereServer
Updater

4. Utilities:
InfoWindow

5. Libraries
Codesets

6. CLI Commands and Tools:
LDCK
RequestChooser
SystemReboot

7. Preferences
AmiSphere Preferences


Special Thanks

The package has been the result of a small dedicated team who have committed great efforts to this body of work. A-EON would like to thank the developers, beta testers and translators for their significant contributions.

Download now free-of-charge at www.AmiSphere.com






31 comments (1 , 2)
[ home ][ about us ][ privacy ] [ forums ][ classifieds ] [ links ][ news archive ] [ link to us ][ user account ]
Polls (Login to view/vote)