Your support is needed and is appreciated as Amigaworld.net is primarily dependent upon the support of its users.




Topic
Replies
Amiga Ireland - January 17&18, 2020 (1, 2, 3)
56
Aros Vision now for UAE and V4
4
How's your experience been with FE Update 2? (1, 2, 3)
42
NEW OS4 UPDAATE !! BANANA !!! (1, 2, 3, ... , 5)
97
Does anyone knows who really have the Commodore brand today?
13
Update 2 installation fails on X5000
9
Sam 440Ep and the New Radeon HD 2D Driver (1, 2, 3, ... , 14)
270
Vultures to Vampires (new Amiga book! by Trevor & David) (1, 2, 3)
54
10 Minute Amiga Retro Cast Episode Thread (1, 2, 3, 4)
60
PythonSSL Update
0
»» Recent Topics »» Visit Forums



Hotfix for AmigaOS 4.1 Final Edition Update 2 available for download
Announcement posted by kas1e on 12-Jan-2021 20:53:46 (1160 reads)
Some users of update 2 for AmigaOS4.1 Final Edition have experienced stability issues after updating. This hotfix addresses these stability issues and fixes a couple of other minor issues found after the release of update 2.

The hot fix is free to registered users of AmigaOS 4.1 Final Edition and can be found in the download area at https://www.hyperion-entertainment.com/.It will also be made available via AmiUpdate.

The hotfix should only be applied on top of the original update 2 package released on December 23,2020!

Read more...
6 comments | Read more
The Amiga Games List, a document created and maintained by David Brunet since April 1991, was updated on January 12, 2021 with the publication of its 51st edition. Among other news and corrections, games published or updated in 2020 have been added, and games created with Scorpion Engine and Haktar are now included. In addition, older games (AOS, OCS, AGA, etc.) that can also be played on an Amiga NG system (MOS, AROS, OS4) via an interpreter are now marked [+Interpreted]. The total is now 13,267 entries, including games, level editors, data disks, extensions and interpreters, which are distributed as follows:

12,664 games.
338 extensions and data disks.
146 game or level editors.
119 interpreters.

And for the anecdote, the number of native OCS/ECS titles has crossed the 10,000 mark.

Link:http://obligement.free.fr/listejeuxamiga/listejeuxamiga.php
Post comment
Amiga Future issue 148 released
News posted by AndreasM on 11-Jan-2021 11:20:18 (128 reads)
The English and German issue 148 (January/February 2020) of the print magazine Amiga Future has been distributed today, and can also be ordered directly from the editorial office of Amiga Future, and the other Amiga dealers that stock the magazine.

Mag Content:

Review Wayfarer
Review Bifrost A1200 Heimdall Edition
Interview Christian Weber

and so much more ... if you haven't already, get your collectable copy ordered today

A more detailed description of the contents and previews of this issue can be found at the Amiga Future magazine hompepage.

Information: https://www.amigafuture.de/app.php/kb/index?c=13
Orders: https://www.amigashop.org
Post comment
Happy New Year !

Thank you to everyone who supported us in the last year. Thanks to our loyal customers, suppliers, developers and friends.

We have some great new hardware and software products arriving in 2021.

AmigaKit Ltd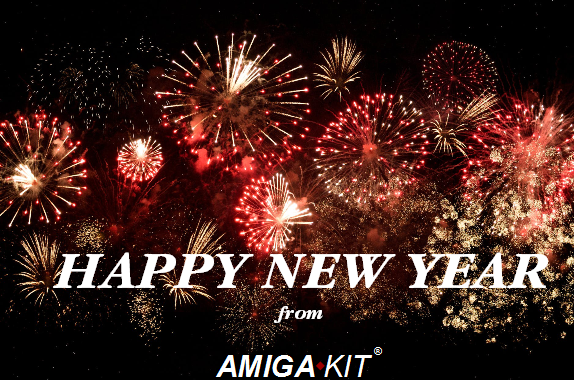 4 comments
New articles on Obligement
News posted by Daff on 1-Jan-2021 16:16:59 (167 reads)
The following articles have been added to the website of the french Amiga magazine Obligement (http://obligement.free.fr) during the last two months:

- November/December 2020 news.
- Old articles from Joystick 13 to 15: Interview with Shaun Southern. Review of Chuck Rock, Review of Multi Player Soccer Manager, Review of Super Cars 2, Review of Ski Or Die, Report: Imagina 1991, Interview with Pierre Adane, Review of Escape From Colditz, Review of Kick Off 2: The Final Whistle, News: Demonware prepares five games for 1991, Interview with Mark McCubbin, Review of Dragon's Lair 2: Time Warp, etc...
- Interview with Eli Galindo (Director of Piko Interactive).
- Interview with Robert Dinnerman (F/A-18 Interceptor programmer).
- Review of Huenison.
- Hardware: MiST 1.4.
- Point of view: A trip down memory lane - icon borders.
- Point of view: Trouble with Alive Mediasoft.
- File: Classic Reflections - What happened to Phase 5? (2nd part).
- File: Celebrities in the Amiga games.
- Tutorial: Installation and utilisation of HstWB Installer 1.4.2.
- Tutorial: Printing with MorphOS 3.12+ (update).
- Special quizz about SiDi.

Articles in english :

- Point of view: A trip down memory lane - icon borders.

Rendez-vous on http://obligement.free.fr for this nice reading.
Our Twitter page : https://twitter.com/obligement
Feel free to contribute. Please contact David "Daff" Brunet for more info.
Post comment
Checkmate A3000 inspired Mini ITX case Kickstarter
Announcement posted by _Steve_ on 30-Dec-2020 16:55:42 (663 reads)
*** 10 Days until the end of the funding ***

The Story

Checkmate A1500 Mini from iMica Ltd

Imagine a brand new, Commodore Amiga 3000 inspired desktop computer case sitting on your desk today, that's what we want to bring to you again.

Following on from the successful launch of the Checkmate 1500 Plus case Kickstarter in 2019 we wanted to add a smaller and more compact case to the range.

Please visit the Checkmate 1500 mini Kickstarter for all of the details, information and videos surrounding this project.


8 comments | Read more
Amiga Bill, Moya Jackie, Ms Mad Lemon and Trevor Dickinson wish you Merry Xmas & Happy New Year 2021 in a short video for Amigatronics.

---->VIDEO
3 comments
Amiga Future monthly News December 2020
News posted by AndreasM on 29-Dec-2020 12:37:49 (330 reads)


A=EON Technology Ltd is pleased to announce a new public update to the clipboard manager ClipViewer.

Version 1.12 is now available to download on both the Updater utility and AMIStore App Store.

It has been made available as a free download to customers who have purchased the standalone ClipViewer from AMIStore in 2016.

Additionally any customer who has previously purchased the commercial version of the Enhancer Software will be able to download it for free from the Updater utility.

The latest ClipViewer utilises the new Toolbar Gadget Class released a few days ago on Updater utility.


Features of ClipViewer



Clipviewer is a powerful clipboard management commodity.

The main features of ClipViewer are:

* view clips easily and quickly in a list
* search clips for keywords
* organise and save clips to files
* edit selected clips in configured applications such as MultiEdit or MultiViewer
* stays resident in memory (started from WBStartUp)
* can be invoked at any time with hotkey combination or directly in supported applications
* Arexx support: Clipviewer has its own port





Post comment
Airsoft Softwair would like to inform you that Hollywood Designer 5.0 SE will only be available until December 31st, 2020. Thus, people who are thinking about purchasing Hollywood Designer 5.0 SE should make up their minds quickly. Hollywood Designer 5.0 SE is identical to the standard edition of Hollywood Designer 5.0 except that it comes bundled with a special version of Hollywood 8.0 that can only be used with Hollywood Designer but not on its own. This limitation makes it possible to offer Hollywood Designer 5.0 SE for a much cheaper price than buying Hollywood Designer 5.0 and Hollywood 8.0 separately. To order your copy of Hollywood Designer 5.0 SE, please visit the official Hollywood portal at: http://www.hollywood-mal.com/

The standard version of Hollywood Designer 5.0 will continue to be available of course.
5 comments
[ home ][ about us ][ privacy ] [ forums ][ classifieds ] [ links ][ news archive ] [ link to us ][ user account ]
Polls (Login to view/vote)