indieGO app store status update / Developer program
Date 21-Jul-2014 8:23:46
Topic: News


Hi,
the indieGO!/AEROS crowd-funding campaign ended and while it didn't reach the goal we can still call it a success.
At first the indieGO- project found positive feedback from several mini computer manufactures and they keep an eye on it.
In parallel to the crowd funding I asked and offered a sort of investment scheme to other parties which was no stupid idea at all : )

Read more...

One result should be "buyable" in short and will combine android, AmigaOS, indieGO-OS and optional AEROS. (Not the typical "short" as known in Amigaland ; ) )

For the price of an ouya you will get additional e-sata and more USB ports and it will be even smaller than the ouya.

AROS developers* will get a 50% discount for the device if ordered at www.ares-shop.de

*core developers, and notorious porters (min. 10 apps (not revisions) for one of the AROS branches )

As promised we work further and reached a point where the graphical App Store client is already useful. The Voucher-code system is working and I can start to send out Codes to activate AEROS. All registered users are qualified to ask for a code.

Another benefit is the download manager which we splitted from the App Store application. It can be launched as stand alone application and allows pausing and resuming of downloads at any time.

After some last tests we will release a "preview" in order to allow further download of AEROS for any available target Platform.

AEROS will already available for i386, Raspberry Pi, Odroid U2 / U3 and AmiQube.
In pipeline are versions for Cubieboard2 and Nintendo Wii as well as r4 for i386 which will work on any PC not just "similar ones to the AresOne".

Basically it is planned to add one target per month (in some month more, in some less). AEROS and indieGO!- OS share the same linux ground.
indieGO!- Store will fill also a gap for nintendo Wii and vWii users and that, so i am hoping for, will mean a lot new potential customers for indieGO!-developers.
And that will result in more indieGO!-apps and that again will mean more software for Amiga-users as well.


News blog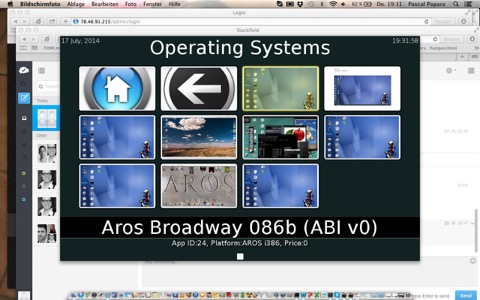 The developer section is under ongoing redesign (more professional an better suited for widescreen resolution. No need to scroll down anymore to reach a button in your browser.

Remember there is still the discounted fee for early registered developers. The service costs nothing until you sell a app. (12% will be kept in case you sell a app).




Changes in web-front-end since last update:
Developers can now create "updates". The system will inform users about an updated app.
We implemented a News system (can be reached via api as well from notification center).
Changes in API:
User registration is possible from client
User profile (password/name) can be changed
Several new filters (platform/categories)

Please remember that the API is documented and 3rd parties can participate if they like to make use of the library. An example could be a "morphOS centric" client. In case a MOS user would buy something and the server keeps the fee, it would be splitter between us and the 3rd party. This possibility is there and can work with AROS distro maintainers, Linux maintainer as well.

Our reference client can be themed and elements can be arranged and so it is already a good starting point.
The design with the big buttons is ideal for use with a wiimote and or touch. Also it fits into the AMC concept.

About payment critics:
I listen to critics.
My ideology forbids me to host you credit card informations. Also I believe that if I include Amiga dealers into the payment process, I am doing something good.
But I understand your points and it is planned as follows:
1. Payment via indieCoins/AmiCoins
You can buy them at ares-shop.de and partners in values of 1000/2000/5000
1000 = 10€
Because I am a nerd I would sell them also for amigacoins (www.amigacoin.org) - price has to be discussed : p)
2. You will be also able to buy download-codes for individual apps from retailers. With that code you can buy/activate the single app inside the store
3. As soon a dedicated server is ready for managing payments I would also accept just in time purchase via Paypal. This would work as in the Wii shop. You click on buy, the store moans about insufficient amount and offers you a way to buy them via paypal/credit card.

Point 3 comes later because people need to give me a serious feeling for how secure the(your) data will be handled. I am a brig friend of 1 and 2 because of keeping your data outside the server.