AmiModRadio v0.95
Date 8-Dec-2015 8:29:32
Topic: Amigaworld.net News


Hi all!

Version v0.95 of AmiModRadio is available here, here, or here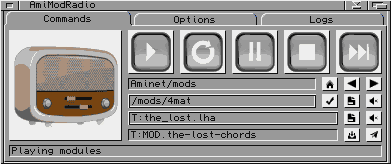 The revamped MUI uses new icons and some interesting code to launch automatically players if in the path. It also include some user preferences, although they are not yet accessible from the UI. As a consequence, putting AmiModRadio in the [FONT="Courier New"]WBStartup[/FONT] drawer will start AmiModRadio, which will launch the first player recognised in the path and play some music immediately!


In addition to some refactorings and clean-up, this version also fixes bugs #13, #19, and #23. (Previous versions fixed many other bugs!)

As usual, bug reports and ideas are welcome!

Cheers!