Enhancer Software 1.4 Released
Date 9-Sep-2018 18:13:47
Topic: Amigaworld.net News





A-EON Technology Ltd is pleased to confirm immediate download available of the Enhancer Software 1.4. This is the fifth public release and can be downloaded for free using the Updater tool for existing Enhancer Software owners. All three versions of the Enhancer Software have been updated: Plus, Standard and Special Edition.

What is new in version 1.4 ?

Many updates have been implemented in version 1.4, both major and minor bringing the package to higher standards. A summary of the notable ones are here:

* Warp3D Nova and OpenGLES 2 library have had major updates including significant work towards enabling the recent GL4ES wrapper and game ports to work **

* Ethernet network device drivers have been added for A-EON's X5000 and A1222 systems. The USBADM8511 ethernet driver has been updated by Amiga Kit and contributed to this release also.

* MultiViewer has been updated with a new image scaling tool. It now also supports MediaDeck Gadget when playing sound datatypes.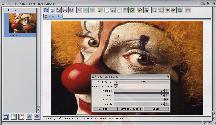 * The sound datatypes have been updated further with support for the new MediaDeck Gadget Class that provides advanced controls in MultiViewer. Sound prefs has been updated to resolve feedback from users.





* X-Dock has received a major overhaul with support for the new DockLib. This enables DockApps to be supported for the first time. Half a dozen examples are included including official RadeonMem Dock App. More DockApps will following soon with many being free downloads from Updater tool.





* Updater tool itself has been progressively improved along with AmiSphereServer and Prefs. They all support third party Package downloads now amongst the various tweaks.




* New SSH2-Handler

* Gadgets and Classes have been updated to accommodate various feedback from users.

* Half a dozen new libraries have been added to the package to bring users systems up to date.

For more information please visit: wiki.amiga.org/enhancersoftware








Special Thanks

The package has been the result of a small dedicated team who have committed great efforts to this body of work. A-EON would like to thank the developers, beta testers and translators for their significant contributions.

We would also like to extend our thanks to Mark Olsen for his timely and professional work in implementing the X5000 ethernet driver.



What has changed in this release?

Devs (new section added)

A1222 ethernet device v1.2 (added)
USBADM8511 device v53.11 (added)
X5000 ethernet device v52.6 (added)


Classes

InfoWindow class v53.11 (updated)


Datatypes

MOD datatype v54.2 (updated)
MPEGA datatype v54.2 (updated)
Logfile datatype v53.1 (added)
Sound datatype v54.6 (updated)
WAV datatype v54.4 (updated)



Gadgets


Mediadeck gadget v53.8 (added)
Sliderbar gadget v53.21 (updated)
Tickbox gadget v53.8 (updated)


L (new section added)

SSH2-Handler v53.9 (added)


Libraries

Codesets library v6.21 (added)
Expat library v53.6 (added)
Filesysbox library v54.8 (added)
Geocode library v1.4 (added)
Z library v53.9 (updated)
OGLES2 library v1.22 (updated)
Warp3D Nova library v1.58 (updated)
Warp3D Nova SI library v1.58 (updated)


Preferences

AmiSphere Preferences v53.37 (updated)
Sound Preferences v53.26 (updated)
Time Preferences v53.21 (updated)


System

AmiSphereServer v53.37 (updated)
Format v53.33 (updated)
Updater v53.50 (updated)


Utilities

AmiPDF v1.40 (updated)
Calendar v53.29 (updated)
Clock v53.27 (updated)
MultiEdit v1.7 (updated)
MultiViewer v2.12 (updated)
X-Dock v2.37 (updated)





** Plus and Standard Edition only, excludes Special Edition