SketchBlock Pro V3.2 Available From AMIStore
Date 20-Feb-2019 16:12:32
Topic: software OS4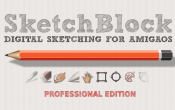 I pleased to be able to let you know that I released a free update to SketchBlock Professional, which now available to download from AmiStore App Store and Updater.

Free to existing owners of SketchBlock Pro, and available at a discount to those of you who have bought SketchBlock Lite in the past. new customers are welcome to jump right in!

This new release includes the following:

* Paint tool extended to add pressure sensitive stamp intervals allowing yet greater flexibilty in brush stroke design. Works well with progressive mode

* Extensions to the path editor. Individual polygons can now be moved, copied and scaled.

* Snapshot windows now saves the weight bar values, enabling the tools and brushes areas to be set as desired


* Added controls to vary paint stroke opacity from the key board whilst painting Z decrease X increase

* Additional ARexx commands

* Misc bug fixes



More information on SB Pro can be found here:

http://www.broad.ology.org.uk/amiga/sketchblock/

Thanks for the various feedback bug reports and support.