A1200 Flash is here!
Date 29-Nov-2020 21:13:39
Topic: Amigaworld.net News


A1200 Flash Expansion is here!
www.amigakit.com/a1200flash

AmigaKit Ltd is pleased to announce our new A1200 user writable flash eaxpansion card with Fast Memory and 40Mhz FPU option.

Flashing is easy
No more burning ROMs, custom ROM images are now possible and easily put together with the powerful software. Flash the card and the software is available instantly as soon as you power on your Amiga 1200!

Load Configurations Fast
Configurations can then be easily and quickly selected by holding down F1 during reset and selecting the image from our custom Early Boot Menu.

Low Cost- High Quality
We work hard to produce new and innovative hiqh quality products at great prices.

The card has other great features such as Real Time Clock option and second clockport.

Features:

8MB 32-bit Fast RAM to boost total system memory to 10MB

4MB NAND Flash - writeable to make software available on boot

Flash Configuration Tool included (requires MUI to be installed)

Memory auto configures with no drivers required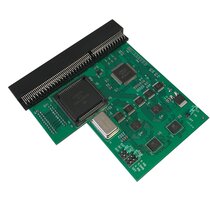 Second clockport header to give computer more expandability

Floating Point Unit socket accepting optional 68882 PLCC FPU up to 40Mhz

Memory can be configured to 4MB, 5.5MB or 8MB Fast RAM using on-board jumpers or early boot menu.

PCMCIA compatible in 4MB or 5.5MB mode**

Header for optional Real Time Clock module: available installed at special price

New version 2.0 (November 2020)

We are pleased to bring this high quality product to the community at our low prices.

Product Links:

UK
USA
Europe
Canada
Australia
New Zealand