Your support is needed and is appreciated as Amigaworld.net is primarily dependent upon the support of its users.




Topic
Replies
AmigaOne Micro uA1-C and advised graphics card
8
FAO: Hypex - The Maestix
7
Updated Alien Breed 3D 2 (1, 2, 3)
43
AmigaOS 4.1FE Classic & 3.2.1 ROM no go (?)
10
An experimental Doom speed test and feasibility study based on a... (1, 2, 3)
48
AmiWest 2022: October 20 - October 24, 2022 (1, 2)
31
Which CPU? (1, 2, 3)
48
Packed Versus Planar: FIGHT (1, 2, 3, ... , 10)
196
What IFF? -AmigaGuide Magazine Latest Issue
5
Next FCUG meeting - Sunday, August 21, 2022
0
»» Recent Topics »» Visit Forums






9th August 2022
A-EON Technology Ltd is pleased to celebrate six years of the Enhancer Software. by releasing version 2.2

The new update is available to all existing Version 2 users as a free download from the Updater tool. It is also available to purchase for new customers as a boxed CD from Amiga Kit, selected dealers and digitally from AMIStore App Store..

Version 2.2 is the cumulation of ten months hard work by the Amiga Developer Team adding new functionality and features to the previous version.

This release represents the most advanced and polished edition of the software. Thanks to user feedback and developer diligence, we have increased the software quality, features and functionality to even higher levels.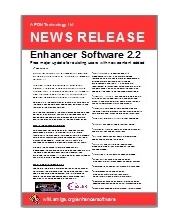 What is the Enhancer Software ?

The Enhancer Software adds to or replaces system components in OS4.1 to provide it with a lot more functionality: from essential 2D video drivers to a modern 3D graphics sub-system, more advanced utilities, tools, classes and gadgets. Over the last six years the package has become increasingly important for users.

Crucially the Enhancer Software code base is independent so can evolve and be released regularly with the Amiga Developer Team working steadfastly on improving the package. It is not held up or constrained by any hiatus in OS4.1 development.

What is new in release 2.2 ?

Looking to the future a major evolution of the Enhancer Software will be Release V54. Behind the scenes it has been in concurrent development with this release so several V54 advanced components have made their debut early by being included in release 2.2.

* Warp3D Nova V54 now replaces it's predecessor, V1.85. This major upgrade represents an extra years worth of development offering major new functionality, speed improvements and fixes. It is an essential requirement for many new 3D game ports with full shader support (such as Doom3). Support also added for the soon to be released NovaBridge.



* OpenGL ES Library has updated to Version 3.3 with many parts being rewritten and optimised. which is also mandatory for new 3D applications such as SCUMMVM, SDL2 and GL4ES.

* RadeonRX 2D video driver now updated with the major feature of GART support providing extra 3D performance. Many additional optimisations.

* Video Acceleration Library further upgraded

* AmiDVD has been fixed for current Kernel

* ListViewer Gadget now has Tree view support and many fixes and optimisations

* Archiver now uses our new ListViewer Tree nodes and animated tab feature

* MultiEdit and MultiViewer now support draggable project tabs provided by the new Tabbed Gadget

* Datatypes V54 system has been upgraded

* Other Utilities have also had updates:
Calendar, Clock, InfoWindow, TuneNet, X-Dock

* Commodities updates for InfoWB & Exchanger

* Preferences have had updates:
Datatypes Prefs, Notifications Prefs,
Power Prefs, Sound Prefs, Time Prefs.

* Commands have had several internal updates:
AddDatatypes, Assign, Copy, Dir, List, MakeDir, Version

* Translations updated: Polish, Danish, Italian, Spanish

Please click Read More for the full list of changes and screen shots

Special Thanks

The package has been the result of a small dedicated team who have committed great efforts to this body of work. A-EON would like to thank the developers, beta testers and translators for their significant contributions.





17 comments | Read more
Two new OmniPort multiport adapters available for the Amiga 1200
hardware Classic posted by AmigaPapst on 7-Aug-2022 17:00:59 (284 reads)
Alinea Computer is pleased to offer two new versions of the OmniPort
multiport adapter for the Amiga 1200.

On the one hand, it is a version for the Vampire 2 accelerator and
on the other hand, one for the ScanPlus Scandoubler or for the Bvision
graphics card.
The multiport adapters route all available interfaces of the mentioned
hardware cleanly out via the expansion port of the Amiga 1200.

Vampire 2 Version
With this version, the HDMI and the network port of the Vampire 2
to the outside. The required network module is already installed on the
OmniPort available. In addition, two USB ports can be connected to the
outside if a USB card is available.

ScanPlus/Bvision Version
With this version, the VGA port of the ScanPlus/Bvision is connected to the
outside In addition, two USB ports can be led to the outside if a USB card
is present.

Matching cables are partly standard and partly optional
present.

Link:
https://www.amiga-shop.net/advanced_search_result.php?inc_subcat=1&keywords=Multiport&language=en
2 comments
Interview with Daniel Jedlicka
News posted by Daff on 28-Jul-2022 6:38:27 (519 reads)
The magazine Obligement publish today an interview with our friend Daniel Jedlicka, musician, ex-member of the demoscene and developper of several AmigaOS 4 audio applications like ADRipper and the recent Rave.

In english: http://obligement.free.fr/articles_traduction/itwdanieljedlicka_en.php
In french: http://obligement.free.fr/articles/itwdanieljedlicka.php

3 comments
AmigaPortal.de registers 200 members!
Announcement posted by Torque on 25-Jul-2022 11:52:01 (471 reads)
Hello Amiga fans!
The AmigaPortal.de registers 200 members. Amiga Cammy reached 200 members today.

Many well-known Amiga personalities have registered. Among others there are the following legends: AmigaBill, Matt from Amigaland, Jan from AmiKit, AndreasM, AshSaidHi, Petro T. Tyschtschenko and Trevor D.

Here you can see all VIPs and friends of the forum:
https://www.amigaportal.de/index.php?threads/das-sind-unsere-freunde-und-vips.183/

We would be glad if YOU join us too. Amiga fans are the best and very welcome!

Kind regards,
Jörg aka Torque
1 comment
Amiwest 2022 October 22-23rd

In honor of the 25th incarnation of Amiwest, the organizing team has been hard at work putting together an amazing show. First, the show hotel is currently under renovation and will be complete in September. So many attendees who stay in the hotel will be treated to refreshed rooms. The show hall is getting a new modern look with better lighting, a welcome change.

Our featured banquet speaker will be Tim Jenison of NewTek fame. This accomplished engineer created one of the most ambitious Amiga peripherals, the Video Toaster. Since then, he has moved on to explore many other fascinating challenges. Join us on Saturday, Oct 22nd, to welcome Tim to Amiwest!

Thus far, we have ten exhibitors lined up, including Doug Compton of 10Marc. We are looking for additional exhibitors, so if you are interested in showing off your Amiga-related project, drop us a note.

Attendee survey! In an effort to make the show the best we can, we are happy to announce a 2022 survey. We hope all those interested in Amiwest, even if you plan to attend or not, take a few minutes to fill in the survey and let us know your thoughts.

We know that travel is difficult with elevated flight costs and more expensive gas. We are working very hard to ensure that this year Amiwest is a special show worthy of the 25th, and we hope you can join us.

Take care,
Amiwest Organizing Team

http://amiwest.net
https://en.wikipedia.org/wiki/Tim's_Vermeer
http://www.10marc.com/
https://forms.gle/kRsQk3x9sPGouQ3p7

1 comment
Alinea Computer: Amega 32 - Mega Driver Gamepad to AmigaCD32 adapter
hardware Classic posted by AmigaPapst on 18-Jul-2022 17:04:06 (714 reads)
Rave version 1.2 released for AmigaOS4
software OS4 posted by Trixie on 18-Jul-2022 16:22:14 (581 reads)
An update to the Rave audio editor has been released on os4depot.net.

NEW IN THIS RELEASE:

- Files can now be auditioned ("previewed") from the file requester before you decide to open them.
- The list of volumes in the file requester displays the respective volume icon (as provided by the Workbench).
- Added a few more options for the file requester in the Settings.
- Updated program documentation.

INSTALLATION:

Just extract the program drawer to a suitable location on your disk. Replace any previous installation of the program.


1 comment | Read more
Amiga Future issue 157 released
News posted by AndreasM on 9-Jul-2022 14:45:39 (428 reads)
The English and German issue 157 (July/August 2022) of our print magazine Amiga Future has been distributed today, and can also be ordered directly from our editorial office at Amiga Future, and from other Amiga dealers that stock it.

Magazine Content:

Review The Amiga 500 Mini
Review FreewayPro USB Zorro-II
Review MasPlayer 2022 Edition

and so much more ... if you haven't already, right now might be the best time to get your collectable copy ordered, before they're all sold out!

For a more detailed description of its contents and previews of this issue click-on link of the Amiga Future magazine hompepage.

Information: https://www.amigafuture.de/app.php/kb/index?c=13
Orders: https://www.amigashop.org
Post comment
BOING #4 magazine released
Announcement posted by Glames on 4-Jul-2022 15:42:12 (524 reads)
BOING #4, THE French paper magazine dedicated to the Amiga, is now available !

In this issue #4, discover each member of the Apollo Team like you've never seen them before! The company Lucasfilm Games and its many Amiga games are also on the menu... Read a file on THEA500 Mini, the AmigaOS 3.2.1, the ApolloOS R8.2, reviews of games, utilities and hardware but also "BOING, my hero". And many other things since there are always 52 pages!

BOING is a magazine dedicated to the Amiga computer, whether original ("classic") or new generation. It deals with all its variations or rather variants ;) : AmigaOS (1.x, 2.x, 3.x), AmigaOS 4.1, MorphOS, AROS and ApolloOS.

Read more
Read more
New articles on Obligement
News posted by Daff on 1-Jul-2022 17:04:26 (291 reads)
The following articles have been added to the website of the Amiga magazine Obligement (http://obligement.free.fr) during the last two months:

- May/June 2022 news.
- News : Apollo, revive the Amiga.
- Old articles from Joystick 45 to 48 : News: Cryo, always more innovative, News: FMV, put a video recorder in your machine, Report: Supergames Show 1993, Review of Blues Brothers Jukebox Adventures, Review of Campaign 2, News: Core Design speeds up, Review of Arabian Nights [CD32], Review of Cool Spot, Interview with David Pleasance, Review of Hero Quest 2: Legacy Of Sorasil, Review of Microcosm, Interview with Jeremy San, Review of Liberation: Captive 2, etc.
- Interview with Urban Muller (Aminet, from 1995).
- Interview with David Newman (musician).
- Review of MorphOS 3.17.
- File: AltiVec.
- File: history of Dynabyte.
- File: the Amiga on TV and in movies (update).
- File: Ramrod, an unpublished game.
- Point of view: the Amiga'89 show and following.
- Programming: an introduction to the PowerPC assembler on MorphOS.
- Special quiz on the characters of Amiga video games.

Rendez-vous on http://obligement.free.fr for this nice reading.
Our Twitter page: https://twitter.com/obligement
Feel free to contribute. Please contact David "Daff" Brunet for more info.
Post comment
[ home ][ about us ][ privacy ] [ forums ][ classifieds ] [ links ][ news archive ] [ link to us ][ user account ]
Polls (Login to view/vote)