Your support is needed and is appreciated as Amigaworld.net is primarily dependent upon the support of its users.




Topic
Replies
An adventure game
14
Big potential for Amiga (1, 2)
30
Amiga 600 Questions
3
Modern web browsers (1, 2, 3, 4)
69
A4000 ZORRO cards not recognized until it "Warms Up...&quot...
3
Can I make the partition Sythem larger with Morph?
4
How to earn money
2
amiga xe
8
sam460 emulated in qemu (1, 2, 3, ... , 21)
406
Re: Website Bugs (1, 2, 3, ... , 22)
435
»» Recent Topics »» Visit Forums



New articles on Obligement
News posted by Daff on 1-Mar-2020 6:18:49 (127 reads)
The following articles have been added to the website of the french Amiga magazine Obligement (http://obligement.free.fr) during the last two months:

- January/February 2020 news.
- Old articles from Joystick Hedbo 44 to 48HS : Review of Nil Dieu Vivant (Pharaoh), Review of Magic Marble, Review of Continental Circus, Report: Survey about Parisian microcomputer stores, Review of Dogs Of War, Review of Roller Coaster Rumbler, Review of West Phaser, News: The games expected for Christmas 1989, Review of Dragon Spirit, etc.
- Interview with David Foster (Amiga game developer).
- Interview with Hans de Ruiter (AmigaOS 4 developer).
- Interview with Robert Jacob (director of Cinemaware).
- Review of GnGeoNG 0.8.1.
- Review of MorphOS 3.12/3.13.
- Review of AMIcast Player 1.3.
- Hardware: Vampire V4 Standalone.
- Point of view: Could a sufficient quantity of CD32 have prevented the sinking of Commodore?
- File: The history of MOS Technology.
- File: Amiga Games List (update).
- Special quizz about the year 2019 on Amiga.

Rendez-vous on http://obligement.free.fr for this nice reading.
Feel free to contribute. Please contact David "Daff" Brunet for more info.

Post comment
Amiga Future monthly News February 2020
News posted by AndreasM on 27-Feb-2020 16:02:08 (435 reads)
4.2.2020
********
Amiga Future: New full versions online

The download area of the Amiga Future was updated today. So, you can now find the following full versions online:

Iron Trackers

https://www.amigafuture.de/app.php/dlext/

An overview of the recent uploads and changes to the download database of Amiga Future is also available from this link:

https://www.amigafuture.de/app.php/dlext/?view=latest

(more info, click the "Read More" button ----->
1 comment | Read more
COVID-19 "Corona" virus hampers Chinese economy, may stall Amiga Tabor launch
hardware OS4 posted by Petah on 24-Feb-2020 21:04:05 (1744 reads)
In a lenghty blog update posted by A-EON CEO Trevor Dickinson on Monday, February 24th, it is stated that production of the upcoming Amiga Tabor may get stalled because of the COVID-19 virus. Reported by various news sources, the pathogen has hampered the electronics business throughout southeast Asia. As reported by Dickinson, the low cost PowerPC-based Amiga manufacturing may also be affected by the virus, potentially pushing the production of the early edition pre-orders from this spring to the third quarter. Meanwhile, the 100 customers that have already bought AmigaKit's sold-out "AAA Bundle" are said to get the opportunity to sign up for pre-ordering the Tabor Early Edition sometime next week.

As no firm launch date has been announced yet, it remains to be seen if the Tabor Early Edition customers on the waiting list will have their new Amigas by this summer or at a later date. On a side note, it may be speculated that A-EON's ExecSG software team will use any additional time to further improve on AmigaOS before the Amiga Tabor's Early Adopter Program takes off.


8 comments
Cloanto licenses Commodore 65 ROM to Mega 65 - Amiga licenses on the horizon?
Announcement posted by Petah on 22-Feb-2020 19:25:37 (967 reads)
In a surprising announcement on Friday, February 21st, Cloanto - famous for its long running range of Amiga emulators - and the Mega65 Project announced that the two parties have come to an agreement regarding licensing official Commodore 65 ROM code for the upcoming Mega 65 8-bit computer, that fully clones the Commodore 65 using FPGA-hardware with a slew of enhancements such as Ethernet and HDMI connectivity. In a following comment, a Mega 65 spokesperson stated that preorders for the highly anticipated little brother of the Amiga 1000 is only weeks away.

This move may suggest that the Cloanto, currently involved with a legal battle with other parties claming ownership of the Amiga trademarks, will be open to similar deals concerning Amiga intellectual property once the ongoing court proceedings are finalized.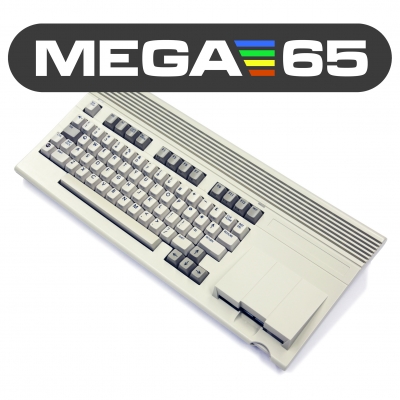 9 comments
Good morning all Amigans,
After a short moment of absence, here I am back with some small updates and some new features (others will come as I spare).
I thank all of the people who have supported me despite my lack of activity lately, and also a big thank you for your patience to all.

Update of the EGL_Wrap Library:
First of all, it is strongly advised to update the EGL_Wrap library in its new version which brings a lot of fixes and improvements for your games.
All my old games (MiniGL) will go to EGL_Wrap library for your enjoyment, just be patient because there is integration work.

The game GISH can be seen in EGL_Wrap library, this allows you to work in higher resolutions without loss of FPS and better graphic quality just for your eyes.

Pacman-Arena game updates with the latest version of EGLSDL_Wrap library

The PINGUS game is seen in EGL_Wrap library, this allows you to work in higher resolutions without loss of FPS and better graphic quality just for your eyes.

Reborn to castle Wolfenstein updates with the latest version of the EGL_Wrap library for your enjoyment.

Return to castle wolfenstein updates with the latest version of the EGL_Wrap library for your enjoyment.

The game ZAZ is seen passing in EGL_Wrap, that allows you to work in higher resolutions without losses of FPS and a better graphic quality just for your eyes.

A new game to add to your list: the SOULFU game makes its appearance thanks to the latest version of the EGL_Wrap library.

I wish you all a great time with all these games.

http://hunoppc.amiga-projects.net/


HunoPPC
6 comments
The Amiga Future magazine - Issue 143 preview is now available to view online
News posted by AndreasM on 19-Feb-2020 15:13:18 (147 reads)
This is the full colour preview and excerpts of the Amiga Future magazine, issue 143 (March/April 2020) that can now be viewed online on the Amiga Future website.

Some of the interesting articles in this issue are:

Interview Thomas Meiertoberens (The return of Magic Bytes)
Preview Flashback 2020 ft. Amiga 35th Anniversary
Review Black Strawberry Cake

Of course there's so MUCH more actually in the magazine.

Needless to say you often get other versions of software, often what was commercially available, as well as some of the latest try-outs or freely released software applications and games for, hopefully, all of the Amiga type Operating systems, so that's Amiga 'Classic', OS4, MorphOS, and AROS, including some PD software for these systems, all on the Reader's cover CD.

A detailed description of this issues contents and excerpts can be found at: http://www.amigafuture.de/kb.php?mode=cat&cat=13

The Amiga Future magazine is available as an English and German printed magazine - every issue is available in FULL COLOUR - directly available from the magazine editorial office and also from various other Amiga dealers.

Preview: https://www.amigafuture.de/app.php/kb/index?c=13
Orders: https://www.amigashop.org

https://www.amigafuture.de
http://www.apc-tcp.de

Post comment
Today's update brings a number of legendary games to your AmiKit! One of them is premiering on Amiga, actually. It's an action role-playing hack and slash game called 👹Diablo (shareware). Yes, that's right! And you can play it in a window on your Workbench too!
5 comments | Read more
GoADF! 2.2 has been released today.

What's new in this version?
- a new Antivirus module - now GoADF! will detect any virus hidden in the image bootblock that is in the XVS library database.
- full support for HFE files, now you can create images for your HxC Floppy Emulator
- and a lot of patches, improvements and optimizations




More at https://bitplan.pl/goadf

This software is shareware, and can be registered for 30PLN (~EUR7) by paypal.

This version is not public yet (it will be public soon), it has been sent to registered users only, in thanks for their support.
2 comments
"Hyperion and Cloanto allegedly close to finalizing settlement"
Amigaworld.net News posted by tygre on 2-Feb-2020 23:36:22 (2235 reads)
Hi all!

Finally, the end is in sight


"Business representatives of Hyperion, Cloanto, and C-A Acquisitions, Inc. have been engaged in several days of intensive face-to-face settlement discussions in Europe geared toward a global resolution of all claims [...]. Hyperion, Cloanto, and C-A Acquisitions, Inc. are finalizing changes to a negotiated term sheet, which they anticipate will soon be executed."

One more week! ;-D

Cheers!

18 comments
Amiga Future monthly News January 2020
News posted by AndreasM on 30-Jan-2020 14:02:05 (435 reads)
9.1.2020
********
Amiga Future issue 142 released

The English and German issue 142 (Januar/Februar 2020) of the print magazine Amiga Future has been distributed today, and can also be ordered directly from the editorial office of Amiga Future, and the other Amiga dealers that stock the magazine.

Mag Content:

Special FPGA Amiga Clone
Review Blastaway
Review DiskPrint

and so much more ... if you haven't already, get your collectable copy ordered today

A more detailed description of the contents and previews of this issue can be found at the Amiga Future magazine hompepage.

Information: https://www.amigafuture.de/app.php/kb/index?c=13
Orders: https://www.amigashop.org

1 comment | Read more
[ home ][ about us ][ privacy ] [ forums ][ classifieds ] [ links ][ news archive ] [ link to us ][ user account ]
Polls (Login to view/vote)