Your support is needed and is appreciated as Amigaworld.net is primarily dependent upon the support of its users.




Topic
Replies
How's your experience been with FE Update 2? (1, 2)
26
Update 2 installation fails on X5000
4
Sam 440Ep and the New Radeon HD 2D Driver (1, 2, 3, ... , 13)
256
Amiga Ireland - January 17&18, 2020 (1, 2, 3)
44
AmigaNG Youtube (1, 2)
21
Software for A1000 (1.3) to A2000 (3.1) PARnet link?
4
Ward Skiles
1
Few more CD32 tiles to go
0
New X5000 system (1, 2, 3)
50
NEW OS4 UPDAATE !! BANANA !!! (1, 2, 3, ... , 5)
92
»» Recent Topics »» Visit Forums



New Sam460cr boards will hit the road soon!
hardware OS4 posted by elwood on 24-Dec-2020 12:12:06 (1263 reads)
ACube Systems is happy to see a new update for AmigaOS and MorphOS. We would like to make a small party with Amiga users in these difficult times.
We then decided to make a small gift to the Amiga and MorphOS Community.

To celebrate the recent release of AmigaOS 4.1 FE Update 2 and MorphOS 3.14, we built a small batch of Sam460cr boards that will be available with a Christmas bundle of the following games:
Gorky17
Descent Freespace
The Secret of Middle City
BOH

The whole bundle will be at 489 Euros.
OS 4.1 FE is included in this product.

We will be ready for shipping in january 2021.

We are also preparing a new shop that will be up to the standards.

Available soon so stay tuned!
19 comments
The legendary AmiKit X is now available to everyone. Merry Christmas!
software Classic posted by AmiKit on 24-Dec-2020 0:24:06 (564 reads)
The well-known Amiga distro in Modern Retro style for Windows, Mac and Linux, released in 2017, is now available to everyone! The year of 2020 was tough. Let's make it a bit nicer at the end. Merry Christmas! 🙂 --Jan, the author.




Grab your copy from AmiKit website at www.amikit.amiga.sk Or get in touch via Facebook or Twitter.

Read more for details of this version

1 comment | Read more
Update 2 for AmigaOS 4.1 Final Edition available for download
Announcement posted by JohnFante on 23-Dec-2020 13:59:53 (915 reads)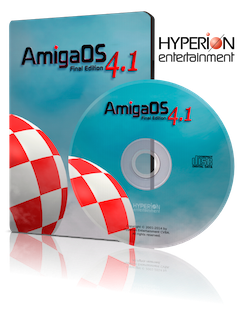 Hyperion Entertainment is proud to announce the immediate release of update 2 for AmigaOS 4.1 Final Edition. Update 2 is by far the largest update ever released for AmigaOS and includes more than 200 updated components with hundreds of bug fixes, improvements and new features and six completely new OS components. The update is the combined effort of four years of AmigaOS development and will bring AmigaOS4.1 Final Edition to a completely new level of stability and usability.
14 comments | Read more
Icaros Desktop 2.3 is now available for download! The brand new version of the most popular AROS distribution enhances its hosted modes under Linux and Windows, and improves the native experience adding new programs and new amazing games to its collection.

Icaros Desktop 2.3 is the result of two years of efforts. It can now handle spreadsheets, create PDF pages, remind your events schedule and automatically import in HostBridge your common applications, so you can run them from Icaros Desktop when you're using Icaros in hosted mode. Here you can find all download information and current screenshots:

https://vmwaros.blogspot.com/2020/12/icaros-desktop-23-now-available.html

Read more for the list of changes from version 2.2.8

2 comments | Read more


Airsoft Softwair, the hardest working elves in Christmas business, are back on your screen with a major update of hURL - the ultimate multi-protocol data transfer plugin for Hollywood which allows Hollywood scripts to transfer data using all kinds of different network protocols including full SSL support. Version 1.1 is a major update as it now includes full support for SFTP and SCP. Furthermore, this version contains a very important bugfix in the MorphOS version which is why MorphOS users should definitely upgrade to 1.1.


2 comments | Read more
DiscreetFX Presents - A Very Merry Vampire Christmas
Announcement posted by DiscreetFX on 20-Dec-2020 10:35:15 (607 reads)
Advanced Happy Holidays Everyone!

It's been a challenging year for many, unfortunately. DiscreetFX wants to brighten the darkness and take a bite out of these troubled times by giving away a Vampire V4 system to one lucky winner. This is not a contest, you don't have to buy anything or sign up for a subscription plan or anything that Dracula would dislike. If you want a chance to win a free Vampire V4 system just send us an e-mail with the subject line "I Want a Vampire V4 to Bite Me".

Please send it to discreetfx@gmail.com. The Winner will be randomly picked using an Amiga random number generator application. The selection process will be on December 31st, 2020, and the winner will be announced shortly after. The Vampire V4 currently has a waiting list so it may take a few months to receive and it will be shipped by the Apollo Team. DiscreetFX only pays for the computer and the shipping to the country and address of the winner. The Vampire V4 is available to win to any Amiga user or former Amiga user in any country on Earth. It's not available if you live off-planet like Mars for example.

We are just kidding about the off-world comment. As far as we know no one currently lives on another planet at this time. Good luck everyone and Happy Holidays and Advanced Happy New Year from DiscreetFX.
6 comments
Amiga Addict Issue 1 Ships
Announcement posted by Ratta on 20-Dec-2020 8:45:28 (381 reads)
Amiga Addict is an independent magazine set up by Amiga users and worked on using Amiga Hardware.

We aim to cover all aspects of 'Amiga' and 'Amiga-like' systems in the modern world. The idea of this magazine is to engage the wider retro community, giving them the experience of a UK-based Amiga magazine. We aim to support other magazines out there (who are doing a great job) such as Amiga Future.

More magazines and diversity means more fun! We hope the magazine will be self-sufficient funded by advertising and readers. We are Uk based and have a Monthly printed option or Digital Distribution.


Order your copy @ https://www.amiga-addict.com
4 comments
The Amiga Future magazine - Issue 148 preview is now available to view online
News posted by AndreasM on 18-Dec-2020 13:36:22 (259 reads)
This is the full colour preview and excerpts of the Amiga Future magazine, issue 148 (January/February 2020) that can now be viewed online on the Amiga Future website.

Some of the interesting articles in this issue are:

Review Wiz: Quest For The Magic Lantern
Review vAmiga
Interview Jacek "jacadcaps" Piszczek (Wayfarer)

Of course there's so MUCH more actually in the magazine. Read more for the full contents.

Read more
The Robotics add-on is now available freely for Ask Me Up XXL, the quiz of general knowledge released for AmigaOS 4, MorphOS and Windows computers. It includes 50 new questions about robots, 2226 in all!

"Who used the word "robot" for the first time ?", "What is the world's best-selling humanoid robot ?", ... are some of the questions to which you will now have the answers! These questions were created by Frédéric Boisdron, editor-in-chief of Planète Robots magazine !




Features:
- Theme / Robotics
- Game modes / Quiz - Survival - Cup
- Forms / Text: 88%, text/image: 10%, image: 2%
- Languages / English, Spanish, Italian, German, French and Swedish
- Translators / English (Glames), Spanish (Enrique Mecklenburg), Italian (Gianluca Girelli, Glames), German (Amigo1), Swedish (Niolator).

The add-on requires at least the lastest update of Ask Me Up XXL (3.5.0).

Please download it here.

List of available add-ons here.

You can buy AskMeUp XXL CD from our partners Alinea Computer and Amedia Computer. The digital version is of course still available from our website.

More details on the game webpage.

Ask Me Up XXL, now you know!

1 comment
[ home ][ about us ][ privacy ] [ forums ][ classifieds ] [ links ][ news archive ] [ link to us ][ user account ]
Polls (Login to view/vote)