Your support is needed and is appreciated as Amigaworld.net is primarily dependent upon the support of its users.

New 2015 Calendar for Amiga Fans with 30th Birthday July Theme
Miscellaneous News posted by amigakit on 21-Dec-2014 18:56:49 (334 reads)
A-EON Technology is pleased to announce that a new 2015 Calendar. Features special 30th Birthday theme in July.

This calendar is ideal for Amiga fans everywhere. Great to put up on the wall at home or put one in the office as a talking point with your work colleagues. Great as a special collector item for the 30th Birthday celebrations in 2015.

Features Classic and next generation themed months.

Front cover only pictured. Each month has full colour page dedicated to it. Special thanks to Kevin Saunders for the wonderful artwork on this calendar.


Where to buy:

AmigaKit United States Store
AmigaKit United Kingdom Store
AmigaKit Europe Store
AmigaKit Canada Store


7 comments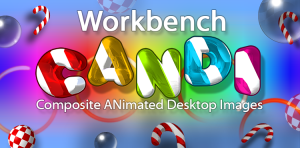 A-EON Technology Ltd is pleased to announce a new version of WB CANDI animated Workbench backdrops for AmigaOS 4.1. The new version features a special Christmas backdrop as well as a Space theme and is available now on AMIStore Amiga App Store.

What is CANDI ?
Back in January 2014 we were discussing ideas on how to use some of the extra CPU and RadeonHD power that the AmigaONE X1000 and X5000 systems provide. The idea of modernising Workbench with animated backdrops was developed and Thomas Claus, Frank Menzel and Kevin Saunders offered their services for this new project. We hope to continue expanding this exciting project and more like it in 2015 as part of A-EON Technology's ongoing commitment to investing in new Amiga software.You can view CANDI video demonstration here: apps.amistore.net/candi


15 comments | Read more
2015 is coming! Make it a good Start for your Amiga!
Events posted by Mikey_C on 19-Dec-2014 12:53:41 (364 reads)
Live in the UK? Getting Amiga OS4.1 Final Edition? Want to save on the postage and meet fellow Amiga users whilst installing OS4.1 FE at the same time?

If so, make a note because on Sunday 11th of January 2015 the Amigakit guys will be attending Amiga North Thames 16th Anniversary meeting. They will be loaded with copies of Amiga OS4.1 FE, plus an exclusive demo of the Prisma Megamix Card and possibly other goodies too........



2 comments | Read more
AmigaOS 4.1 Final Edition shipping now!
software OS4 posted by Cyborg on 18-Dec-2014 20:20:09 (3189 reads)
(Source: www.hyperion-entertainment.biz)

Brussels, December 18, 2014
Hyperion Entertainment is thrilled to announce shipment of AmigaOS 4.1 Final Edition to dealers has been started. This means that the first customers will get their own copy of AmigaOS 4.1 Final Edition right before christmas, just in time to put it underneath the christmas tree.

Since the initial release of AmigaOS 4.1 more than six years ago, functionality and user experience have been steadily improved by six free major updates and over 88 free smaller ones through AmiUpdate. AmigaOS 4.1 Final Edition defines the new baseline by consolidating all previous updates, bringing new long awaited features and stability improvements and last but not least enabling the user to make a clean installation in one go. Additionally it comes professionally produced as full version on physical media in a nice DVD box, together with a booklet containing installation instruction as well as a little extra for only EUR 29.95 suggested retail price (incl. VAT, may very on your location).


58 comments | Read more (1 , 2 , 3)
A-EON Technology Ltd recently released the newly developed Personal Paint 7.3 for Classic AmigaOS 3 computers on the official PPaint.com website as a digital download purchase.

We are pleased to announce that a licenced version can now also be purchased as an extra app preloaded on our 4GB IDE CF Hard Drive package.

Every PPaint supplied on the hard disk drive will be provided with a digital download licence from A-EON Technology Ltd in addition to the pre-loaded version so that selected future updates or upgrades can be verified.

The full Personal Paint package occupies approximately 8MB of disk space so this makes it a great way of purchasing this new paint/graphics application for Classic Amiga users who do not have internet or a CD drive.

The revenue from each PPaint licence paid to A-EON will go towards further new Amiga development including new roadmap for taking Personal Paint to version 7.5 and beyond.

Where to buy:

www.ppaint.com - for digital download edition from A-EON Technology

AmigaKit UK store - for 4GB CF IDE Hard Drive
AmigaKit Europe store - for 4GB CF IDE Hard Drive
AmigaKit USA store - for 4GB CF IDE Hard Drive
AmigaKit Canada store - for 4GB CF IDE Hard Drive
7 comments
Amiga Future 112 preview and excerpts are now available online
Announcement posted by AndreasM on 16-Dec-2014 12:54:43 (222 reads)
The full colour preview and excerpts of the Amiga Future issue 112 (Januar/Februar 2015) are now available online.

Some of the interesting articles in this issue are:

Test AmigaOS 4.1 Final
Interview AmigaOS 4.1 Final
Test Rapid Road

Of course there's so MUCH more actually in the magazine.

Needless to say you'll find some FULL versions of software, often what was commercially available, as well as some of the latest try-outs or freely released software applications and games for, hopefully, all of the Amiga type Operating systems, so that's Amiga 'Classic', OS4, MorphOS, and AROS, including some PD software for these systems, all on the cover CD.

A detailed description of content and excerpts can be found at: http://www.amigafuture.de/kb.php?mode=article&k=4663

The Amiga Future magazine is available as an English and German printed magazine - every issue is available in FULL COLOUR - directly available from the magazine editorial office and also from various other Amiga dealers.

Preview: http://www.amigafuture.de/kb.php?mode=article&k=4663
Orders: http://www.amigashop.org

http://www.amigafuture.de
http://www.apc-tcp.de

1 comment
Small utility that may increase performance on Sam460/AmigaOne 500
Amigaworld.net News posted by gtmooya on 14-Dec-2014 11:33:41 (1196 reads)
This utility works on both Sam460ex and Sam460cr.

Once L2 cache write is enabled, Ragemem will report around 35% speed increase in the L2 WRITE32/WRITE64 tests, and some applications may see improved performance too (for example 3-5% speed increase in MPlayer with some videos).

Download: L2cache-1.0.lha
6 comments
AEROS for Amiqube available now - and some discounts are coming
software AROS posted by phoenixkonsole on 13-Dec-2014 15:52:24 (387 reads)

I am glad to announce that AEROS for Amiqube is now available from my italian partner. The download-version is available at the indieGO!-app store. Customers of the physical version can request a voucher from me to download future updates.


Read more
A-EON Technology is pleased to announce that it has purchased the AmigaOS source code and development rights for Aladdin4D from DiscreetFX. As part of the agreement A-EON will exclusively own the Aladdin4D 68k and PPC source code, domain name, brand and rights for all AmigaOS and related versions including emulation and future MorphOS and AROS ports. Meanwhile DiscreetFX will retaint the rights for non-Amiga related operating systems.
7 comments | Read more
The new EasyNet Pro is now available from AmigaKit.com and as a digital download on AMIStore App Store for AmigaOS.

EasyNet Pro is a TCP/IP stack solution for your classic Amiga helping you join the internet and add your Amiga to networks in order to share files with other computers.
5 comments | Read more
[ home ][ about us ] [ forums ][ classifieds ] [ links ][ news archive ] [ link to us ][ user account ]
Polls (Login to view/vote)